CES 2018 - Intel is about to reveal their next-gen Core CPUs powered by Radeon RX Vega M GL graphics, featuring 4GB of HBM2 and HBCC.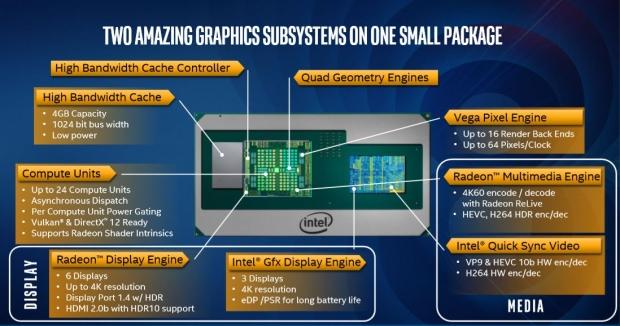 Inside, there are two graphics subsystems on the single package courtesy of Intel using the Radeon RX Vega M on the left with 4GB of HBM2/HBCC on a 1024-bit bus, with 24 Compute Units and support for up to 6 displays. The GPU supports up to 4K, and has support for DisplayPort 1.4 w/HDR, HDMI 2.0b and HDR10.
On the right, the Intel side of things has an Intel Gfx Display Engine with support for 3 displays at up to 4K, and support for Intel Quick Sync Video which provides VP9, HEVC, and H264 hardware encoding/decoding.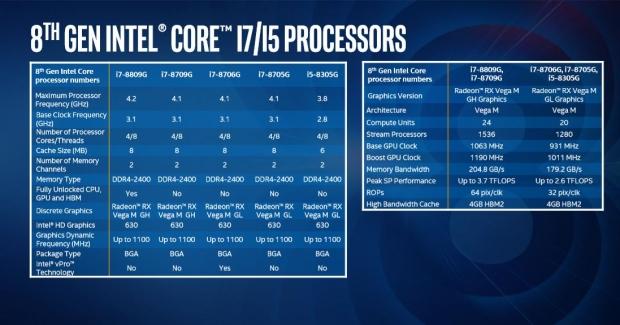 These are the new SKUs we're to expect, with the flagship Core i7-8809G.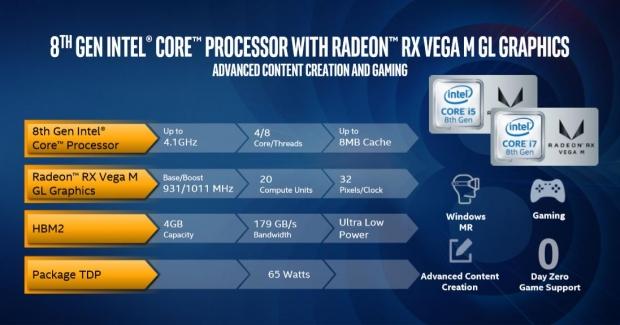 The Intel CPU itself is a 4C/8T @ up to 4.1GHz with up to 8MB of cache depending on the SKU, while the Radeon RX Vega M GL graphics have 20 compute units with base/boost GPU clocks of 931MHz and 1011MHz, respectively. There is 4GB of HBM2 on a 1024-bit memory bus that's capable of 179GB/sec with it coming in at 65W.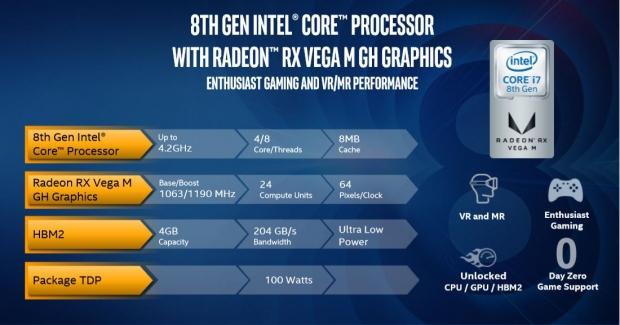 The other SKU has the same 4C/8T of CPU power but this time 100MHz faster at up to 4.2GHz, while the GPU packs four more Compute Units bringing us up to 24 CUs and 64 pixels/clock with the same 4GB of HBM2 but spun up to 204GB/sec of memory bandwidth, with a TDP of 100W.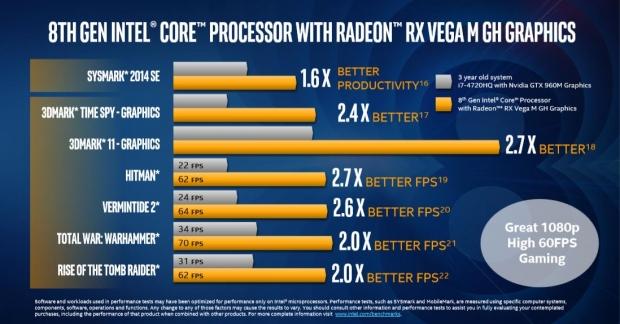 Intel benchmarks this against a 3-year-old PC with the Core i7-4720HQ and dedicated GTX 960M graphics from NVIDIA.