Titan Quest coming to consoles in 2018, even Switch
The classic ARPG is coming to consoles, and you can even soon play it on the go on Switch.

Published Wed, Dec 13 2017 10:14 AM CST
|
Updated Tue, Nov 3 2020 11:53 AM CST
Beloved 2006 ARPG Titan Quest is making a big jump to consoles in 2018, THQ Nordic today announced.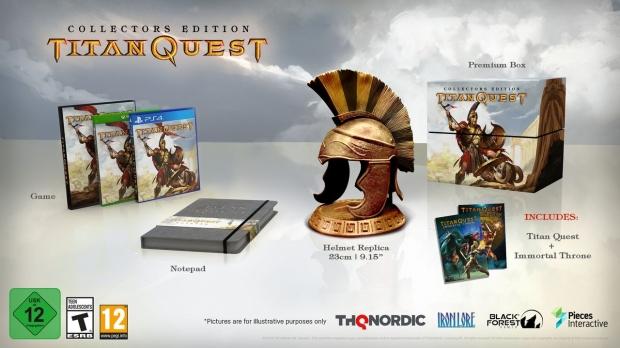 Titan Quest's console port is actually coming to all modern consoles including the PS4, Xbox One, and even the Nintendo Switch. The latter is a very welcome surprise and I'm wondering if it'll have some form of couch or on-the-go co-op action, especially given the Switch's transforming nature. The publisher notes that the Switch version doesn't yet have a release date and will likely miss the March 2018 timeline for the other versions.
THQ Nordic is also offering two editions of the game: the standard edition, which comes with the base game and the Immortal Throne expansion, for $30; and a collector's edition (PS4, Xbox One, PC) for $120 that includes a Greek helmet replica, a special box, and a notepad.
Titan Quest on consoles will feature full online multiplayer with up to 6 players in a co-op environment, alongside fully remastered visuals to meet today's systems.
Check below for more about the upcoming port:
Released in a Standard Edition and loaded Collector's Edition on March 20th 2018

Behold, the PC gods have spoken... Titan Quest is granted to also release on all current-gen console platforms in 2018. Apart from the online- and offline-release of the Standard Edition of the game, a mighty Collector's Edition has been melted in Hades' hellfire, hammered and forged on Hephaestus' anvil, infused with Mars' wrath, and charged with Zeus' lightning.

Titan Quest for consoles will launch for PlayStation 4 computer entertainment system and Xbox One on March 20th 2018. The version for Nintendo Switch is in development and will be released (insert drumroll) when it is done.

The quick & dirty facts on these editions

Standard Edition contains:

- Contains Titan Quest and Immortal Throne

RRP: EUR/USD 29.99, £26.99

Platforms: PS4 system, Xbox One

Collector's Edition contains:

Link to Mockup: https://n.thq.com/mKUS30hc2cy

- Contains Titan Quest and Immortal Throne

- Replica of a Greek war helmet, 23cm (9,06 inches)

- Notepad

- Premium Box

RRP consoles: EUR/USD 119.99, £104.99

RRP PC: EUR/USD 109.99, £99.99

Platforms: PC, PS4 system, Xbox One

About Titan Quest Console Edition

From Age of Empires co-creator Brian Sullivan and Braveheart writer Randall Wallace comes an action role playing game set in ancient Greece, Egypt and Asia. The Titans have escaped their eternal prison, wreaking havoc upon the earth. The gods seek a hero who can turn the tide in an epic struggle that will determine the fate of both men and gods. Are you ready for the quest?

Features

Explore the Ancient World - Unlock arcane mysteries as you journey to legendary locations

Conquer Monsters of Legend - Battle mythical beasts in a story-driven campaign that will determine the fate of all existence

Highly Customizable Characters - Build and customize your characters with 28 classes and over 1000 pieces of unique and legendary items to create the ultimate champion

Online Multiplayer Gameplay - Challenge others to experience the story in fast-action, 2-6 player online cooperative gameplay

Console controls & UI - Tailor made UI and controls for a perfect ARPG experience using a gamepad

Remastered graphics - Fully reworked textures for an up to date Titan Quest experience
Related Tags