Justin Roiland introduces Squanch Games and teases new title
Justin Roiland has re-branded his VR studio to Squanch Games and has teased a new title announcement at this weeks Games Awards.

Published Mon, Dec 11 2017 2:30 AM CST
|
Updated Tue, Nov 3 2020 11:53 AM CST
Justin Roiland, the creator of the hit series Rick and Morty has re-branded his VR studio name after a recent discovery that it was very similar to another studios name. Previously Squanchtendo, has now been changed to the convenient Squanch Games, this announcement was done through a classically amusing comic posted on the studios website.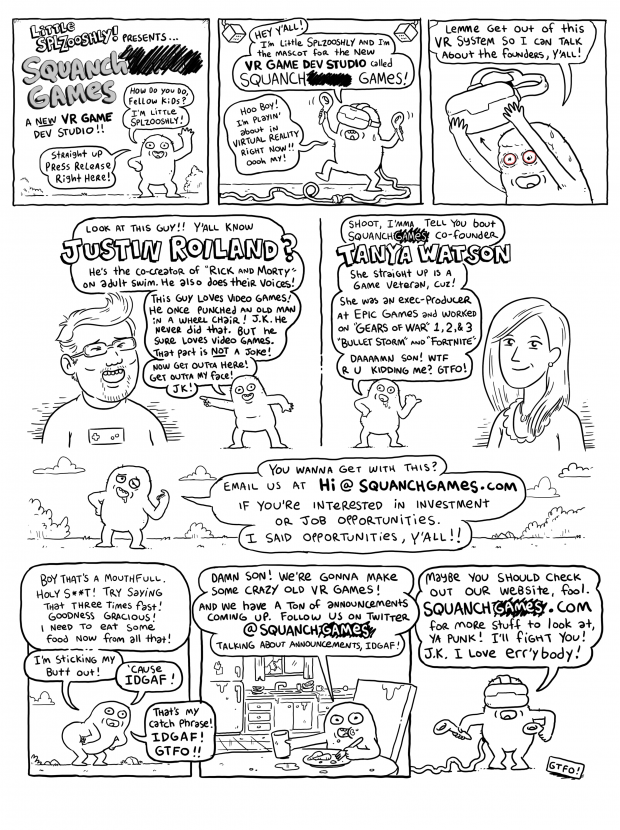 Not only was the name change explained throughout the comic so was the founders of the studio, Tanya Watson co-founder of Squanch Games was a former Epic Games producer and has worked on large successful projects such as the Gears of War franchise and the popular Battle Royale shooter Fortnite. What was also found out through the comic was that Squanch Games has got announcements coming up and more specifically at this weeks Games Awards, which hints towards a very exciting new title.
Taken from the Squanch Games website is also information regarding the name change, which is of course as Justin Roiland loves sarcastic with a hint of creative wit.
"We recently discovered a video game related company with a similar name to our former name. We never could have predicted the discovery of a video game entity with such a similar name. What a surprise to us. We were shocked and surprised. So we decided in order to avoid confusion we are changing the back half of our name! We are now Squanch Games! Hooray! Also it's National Microwave Oven Day! Did you know that? Go celebrate!"
Related Tags