Nintendo Switch hardware sales in dominant position
Since launching 6 months ago, Nintendo's new Switch handheld-console hybrid sat at the top of hardware charts for 4 of them.

Published Fri, Sep 15 2017 3:08 PM CDT
|
Updated Tue, Nov 3 2020 11:54 AM CST
Nintendo's new Switch handheld-console hybrid system has enjoyed tremendous success in its first six months of availability, dominating sales charts off and on since its launch in March.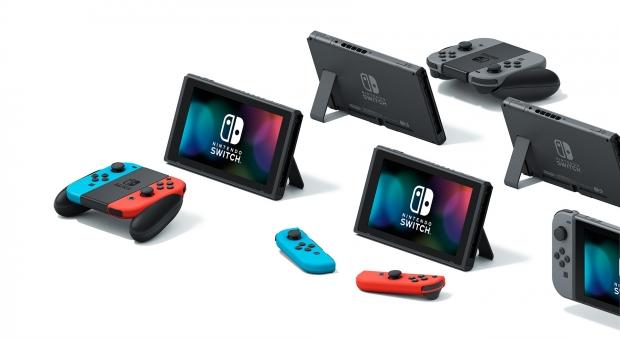 The Nintendo Switch is immensely popular. The machine, which allows users to play games both on-the-go and on a television at home, is selling at retails across the globe as demand quickly outpaces supply. This hot demand for the Switch has had a direct impact on the system's performance on hardware sales charts, which sees the hybrid dethroning Sony's titanic PlayStation 4 for many months since the handheld's launch in March of this year. We've already reported how the Switch has re-vitalized Japan's console hardware market, but the system is doing exceedingly well in Nintendo's biggest market: North America.
Analyst tracking firm NPD Group reports the Nintendo Switch was the best-selling console for August 2017 in the United States, beating out Sony's PlayStation 4 and Microsoft's Xbox One. This marks the second month in a row the Switch has beaten the PS4. In fact the Switch has dominated sales charts for four out of the six months of the system's availability, NPD Group analyst Mat Piscatella said.
The demand is surely there, but Nintendo has had trouble keeping up with the voracious appetite of consumers due to the component shortages afflicting mobile devices and, namely, handhelds like the Switch. As Apple readies the release of its new iPhone 8 and iPhone X handsets, along with more OEMs and companies churning out laptops and tablets, the industry is facing a significant demand for flash memory. Nintendo is one of the many companies affected by this component shortage.
The Japanese games-maker plans to sell 10 million Switch units in the fiscal year ending March 2018, and as of Nintendo's fiscal Q1'17 quarter from March thru May, the Switch has sold 4.7 million units. To meet its projected sales target the company must make, ship, and sell another 5.3 million consoles throughout the next three quarters.
It's strongly hinted that Nintendo has a significant stockpile of Switch consoles in order to meet the busy holiday season. The company has typically seen a surge in Switch sales accompanying the release of major first-party games such as Splatoon 2, and the upcoming Super Mario Odyssey will be the year's biggest release, so it should have a respective stockpile to accompany it.
It'll be interesting to see how the Switch's performance continues, but as more developers and publishers embrace the hybrid, consumers will follow. Let's just hope Nintendo can keep up with the demand.
Related Tags