Nintendo Switch is 'very difficult' says EA
EA spent considerable effort building an engine from scratch to get FIFA 18 running on the Switch, highlighting the system's limitations.
Published Sep 2, 2017 5:20 PM CDT
|
Updated Tue, Nov 3 2020 11:54 AM CST
3 minutes & 11 seconds read time
While Nintendo's new Switch handheld-console hybrid is in hot demand, big-name publishers like Electronic Arts have their work cut out for them when bringing big franchises like FIFA to the platform's constricted specifications. FIFA 18's sales performance on the Switch will have a direct impact on EA's future plans on the system--especially since the company put so much effort packing their big sports juggernaut into such a small package.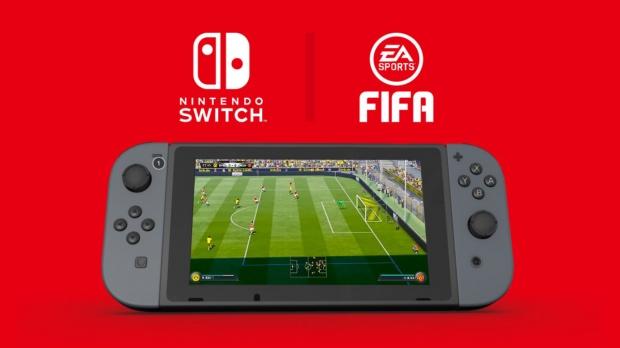 Why aren't more publishers bringing third-party games to the Switch? Gamers frequently ask this query while requesting popular titles like Overwatch get ported to the device. In a recent interview with Eurogamer, EA Sports Bucharest's Andrei Lazarescu gives the answer: the hardware is "very difficult". The producer, who's helming FIFA 18's development at the Bucharest studio, says the team had to create a new engine from scratch to ensure FIFA 18 could run on the Switch. As EA has strongly pushed its teams to exclusively use Frostbite for its games, this compromise speaks volumes--and trade-offs like these are really what developing big games onto the Switch entails.
"The hardware is very difficult," Lazarescu said in the interview. When asked if FIFA 18 on Switch could even have close approximation of the features on PC and console versions of the game, which include modes like FUT Champions, Squad Battles, and The Journey campaign, the producer said: "it would take an army of people, if it was possible, to be done."
"Every time we only have a year to do the game. You have to be very careful about the choices that we make and the features that we want to put in, because the [deadline] date will not change. The date will not change in any way."
The EA Sports producer goes on to say that he sees FIFA 18's Switch version separately from other platform's ports. Some things just don't work on the Switch because of its hardware limitations and different form factor, but also because of the audience who's playing it.
"I look at them as two different games, two different worlds, that I think we should take for what they are, and keep in mind that we should not try to force people onto certain things just because it works on a certain platform."
Owning a Nintendo Switch--like owning any handheld--is all about compromise. While Switch owners hope that their favorite games will arrive on the handheld-console hybrid, it's unrealistic to expect full game performance parity. As a Switch owner I've come to terms with and accepted the fact that third-party games may simply be lesser versions than their console and PC counterparts.
I'd like to see more games cross over, but I knew going in that the Switch may end up mirroring the Wii U's faltering support from big third-party developers. So far the Switch has been embraced by many indie developers while big publishers like EA and Take-Two are experimenting with ports of some of their biggest franchises, and Ubisoft is taking a different tact with original content like Mario + Rabbids: Kingdom Battle.
I've also come to the realization that some third-party publishers may use the Nintendo Switch as a haven for re-releases from the Xbox 360 and PlayStation 3 era. These titles would be re-vamped and spruced up for the handheld and re-sold in a $59.99 package.
Case in point: Skyrim, which is releasing sometime this year on the Switch for $59.99, as well as Payday 2, another big yesteryear title.
Nintendo may also port Wii U games over to the Switch in an effort to sell gems that the current gen of users missed out on.
But all in all, as a Switch owner, I understand that the console has its limitations simply because it's a only a fraction as powerful as today's consoles. The Switch has 4GB of LPDDR4 RAM and a Maxwell-based NVIDIA Tegra X1 chip with 1024 TFLOPs of compute power.
As more and more big-name publishers aim higher and higher with their games, they'll have to continue making separate, forked, and consolidated versions of their games for the Nintendo Switch...and that's not something that every company wants to do.
Related Tags