Capcom's Q1 games operating income spikes by 2,080%
What's Capcom up to? Our comprehensive report analyzes Capcom's Q1 earnings and fiscal year guidance to paint a better picture of future moves.

Published Mon, Jul 31 2017 12:15 PM CDT
|
Updated Tue, Nov 3 2020 11:54 AM CST
Capcom reports strong growth for the first quarter in Fiscal Year 2018, pushing net sales up by 7.5% year-over-year and an incredible 2,080% earnings spike in digital contents segment operating income.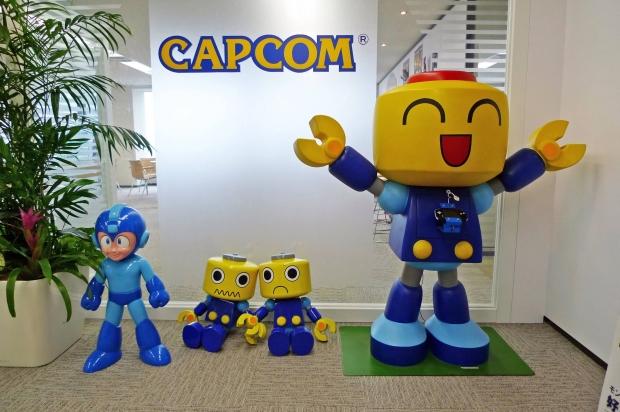 Capcom has kicked off the fiscal year ending March 2018 with impressive earnings across the board; not only was revenue positive in all gaming sectors, earnings rebounded year-over-year thanks to consistently strong sales of key flagship titles.
The Japanese games-maker reported net sales of 11.746 billion yen ($106.172 million) for the three month quarter ended June 30, 2017, up 7.5% year-over-year. Operating income was 784 million yen ($7.08 million) up an amazing 208% year-over-year from Q1'16's loss of $726 million yen. Ordinary income for the quarter was 772 million yen ($6.97 million), up a big 137% from the substantial 2.08 billion yen ($18.8 million) loss last year. Capcom's total profit was positive this quarter, pulling in 521 million yen ($4.70 million) and up 136% from last year's big 1.41 billion yen loss.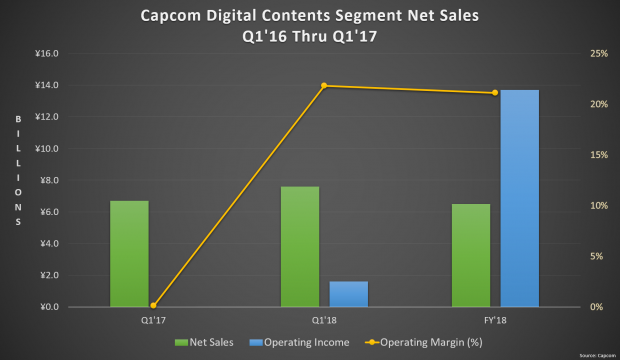 Capcom's digital contents segment, which is the core of the Japanese company's business, saw a meteoric 2,080% spike in operating income from last year's calendar Q1'16 earnings. Net sales for the segment were also up from last year by 14.1%, with segment net sales pulling in 7.688 billion yen ($69.49 million).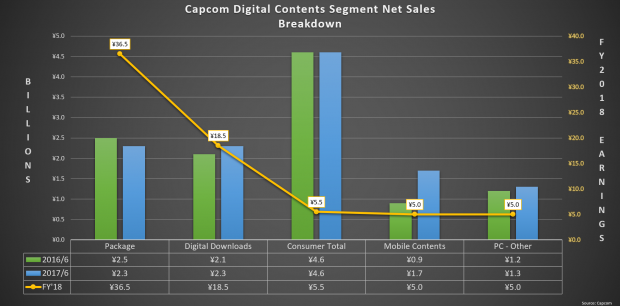 Although Capcom has missed its sales targets for major games like Resident Evil 7 and Monster Hunter XX, the company reported strong sales of its Ultra Street Fighter II release on the Nintendo Switch. Catalog titles supplemented earnings alongside major new releases such as Street Fighter II, which sold 450,000 copies on Nintendo's new handheld-console hybrid.
In light of the Q1 sales, Capcom has outlined its total Fiscal Year 2018 earnings for the full year. Company guidance forecasts the following earnings targets:
Capcom Fiscal Year 2018 Guidance
Net Sales: 93 billion yen ($840.627 million)
Operating Income: 14.5 billion yen ($131.065 million)
Ordinary Income: 14.0 billion yen ($126,546 million)
Total Profits: 9.5 billion ($85.87 million)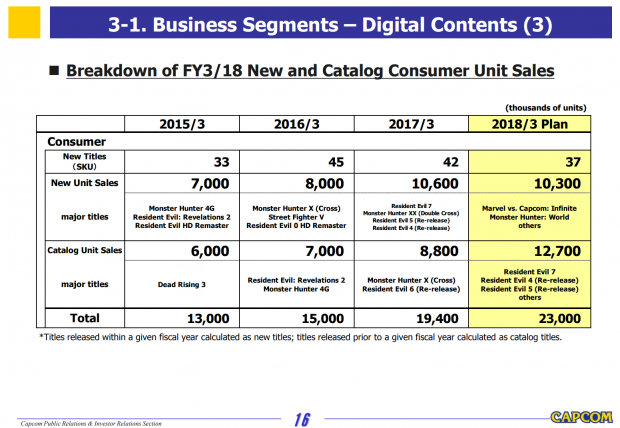 Capcom plans to release 37 new SKUs the fiscal year ending March 2018, with the bulk of packaged games, or 45% of all games sold during the year, being sold in North America. The company expects digital downloads to make up 54% of all video games sold during the year, or 12.5 million units of the year's total 23 million sales.
New games such as Marvel vs Capcom: Infinite and Monster Hunter: World will make up 44.78% of games sold during the FY2018 timeline with 10.3 million units, Capcom forecasts, with catalog sales making up the bulk of sales of 12.7 million units, or 55.21%.
Related Tags