Visceral's Star Wars game on schedule for 2018 release
EA reconfirms Visceral Games' new untitled Star Wars game will release in its Fiscal Year 2019 timeline.

Published Fri, Jul 28 2017 10:21 AM CDT
|
Updated Tue, Nov 3 2020 11:54 AM CST
EA re-commits to FY19 release timeline for Visceral Games' new action-based Star Wars game.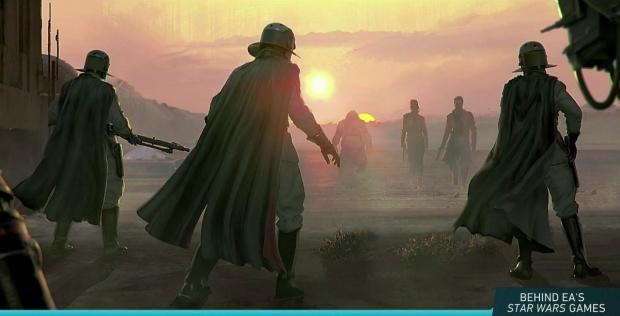 Long ago Electronic Arts confirmed Dead Space developer Visceral Games' new unnamed Star Wars game would release in 2018, and the company has reiterated that release timeline. In its Q1'17 earnings call, the company confirmed that Visceral's Star Wars project will be part of its Fiscal Year 2019 slate, which is held from April 2018 to March 2019. EA Chief Financial Officer Blake Jorgensen hinted that its Star Wars games would coincide with major theatrical releases, and the new Han Solo anthology series is set to kick off in 2018.
The big headlining games for EA's FY2019 timeline will be the new Star Wars title as well as BioWare's massively ambitious new IP Anthem, the company confirmed in its earnings call.
"As we continue to pioneer for our players, our portfolio will expand in FY19 and beyond. We will deliver stories that you're able to play, like the Star Wars action-adventure game being developed by the Visceral Games team. Anthem, our new IP from BioWare, will introduce a contiguous open world that is ever-changing and influenced by players, as they band together and support each other in their journeys," EA Chief Executive Officer Andrew Wilson said.
Read Also: Visceral's new Star Wars game to capture the magic of the films
While official info on Visceral's Star Wars game is scant, we've put together some clues.
We know that the game will be powered by DICE's flexible and powerful Frostbite engine, and that it's been in development for years now. The project will be action-adventure in genre, and will deliver a unique narrative previously unexplored by the series.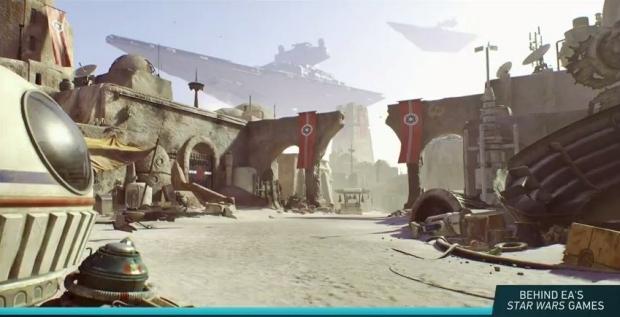 Based on a sneak peek clip, I personally think players will take the role of a bounty hunter in the game.
"I've been blown away by the level of collaboration between the Story Team at Lucasfilm and Amy Hennig and the team at Visceral as they create an original, authentic narrative in the Star Wars universe. It is an amazing example of how we're taking an already strong partnership to another level," EA's Jade Raymond said in an update post in 2016.
Uncharted writer Amy Hennig, who's helming the project, is ensuring that the game stays authentic to the original trilogy. Hennig and her team is directly collaborating with Lucasfilm and have a direct pipeline to the source canon at Skywalker Ranch.
"We're writing an original Star Wars story, with new characters, new locations, new tech, new creatures...you name it," Hennig said in a special mini documentary at the last Star Wars convention.
"Our game is a long ways out, we don't have a name yet, but we've been working hard on it and digging in with our partners at Lucasfilm. It's critical to have this collaborative relationship with our partners at Lucasfilm. All of it has to sit authentically alongside the stuff people know now."
EA will likely unveil the new project at E3 2018, and may not announce new details any time this year. As Amy Hennig said, 2017 is Battlefront II's year...but Visceral's time is coming, and it'll be glorious.
Related Tags