EA today reported its first quarter earnings for Fiscal Year 2018, kicking off the new year with some impressive digital growth.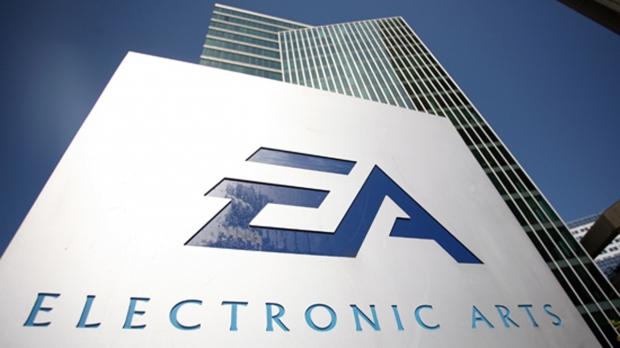 Live services like its mega-earning Ultimate Team sports game drivers are the heart of EA's massive billion dollar empire. In the first quarter of FY18, EA actually made more money from live services than it did from actual digital game sales. Live services, which include extra content/DLC/microtransactions from Ultimate Team and all subscription earnings, are up 22% year-over-year raking in $420 million or a whopping 61.67% of EA's first quarter digital net sales earnings. Digital full game sales pulled in $111 million, up 32% year-over-year and representing just 16.29% of digital net sales. Mobile is up too, increasing by 6% YoY to $150 million of digital net sales.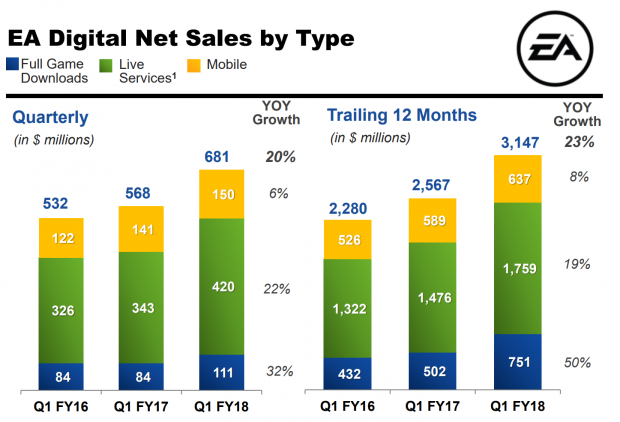 Total net revenue for fiscal Q1'18 is $1.449 billion, up 14% year-over-year from fiscal Q1'17. Total digital net revenues for the quarter sit at $879 million, up 27.57% year-over-year and representing 60.66% of total net revenues for the period. Packaged goods pulled in $570 million, or 39.33% of total net revenues for fiscal Q1'18, down 2.06% year-over-year. EA made a gross profit of $1.29 billion in the three-month period ended June 30, 2017.
Platform-wise, consoles still dominate EA's digital net sales, making up 54% of revenues in the segment. Consoles pulled in $368 million in digital net sales, up 25% year-over-year, with PC making up 23.93% of digital sales with $163 million in revenues, up 23% YoY. Mobile made up 22% of earnings in the segment with $150 million, up 6% year-over-year.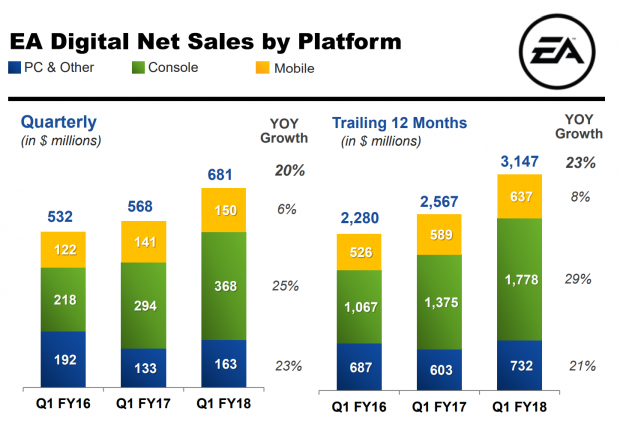 In trailing 12 months figures, which include the last 3 quarters from Fiscal Year 2017 combined with the first quarter of FY2018, illustrate how the company's earnings have grown in this period. Total digital net sales for the trailing 12 month period are $3.147 billion, up a staggering 23% year-over-year thanks to continual strong growth in digital earnings with breadwinners like FIFA Ultimate Team.
Live services in trailing 12 months digital net sales figures made a whopping $1.759 billion, up 19% YoY, and representing 55.89% of all revenues for the period. Mobile grew by 8% to $637 million, with physical game sales rising by a massive 50% to $751 million, or 23.86% of total earnings.
EA Chief Financial Officer Blake Jorgensen noted that fiscal Q1'18's operating income pulled in a record $176 million driven by strong recurring digital growth and event-driven live services.
"Q1 was an outstanding quarter, with thriving player communities in our top franchises like Battlefield, our EA SPORTS portfolio, Star Wars, and The Sims continuing to grow our network and drive our digital business," said Chief Executive Officer Andrew Wilson. "We have built strong momentum, and now we are accelerating into a year of tremendous innovation, where extraordinary new games, content-rich live services, and expanding global competitions will deliver more fun for our players and fuel growth for Electronic Arts."
"We had a great start to the fiscal year, primarily due to our event-driven live services," said Chief Financial Officer Blake Jorgensen. "Our operating cash flow was the highest ever for a first quarter, and underlines how live services have fundamentally transformed our business model. Driven by innovation and live services, we expect to continue to grow our profitability and cash generation."
Select quarterly highlights:
Ultimate Team total unique player population grew 11% year-over-year

Battlefield 1 had more than 21 million players joining the game as of quarter end

Monthly active players for The Sims 4 on PC increased more than 20% year-over-year

FIFA Mobile unique player base grew to more than 95 million

Since launching its first season, NBA LIVE Mobile has engaged more than 70 million unique users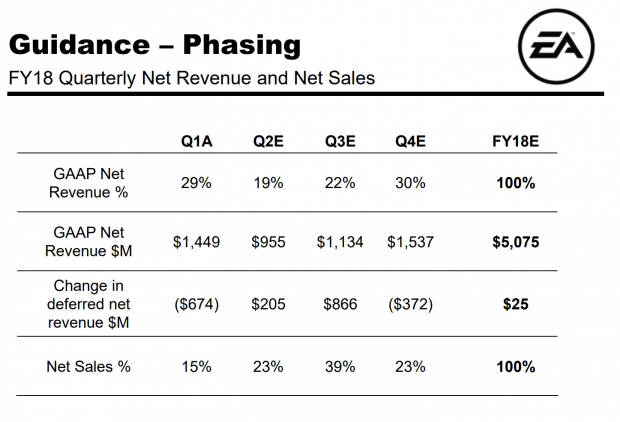 Fiscal Year 2018 Guidance
EA expects massive earnings for the full fiscal year with $5.075 billion in net sales with making up 64.94% of that value with $3.295 billion in revenue. Physical is expected to rise $1.780 billion, representing 35.07% of total net revenues in the fiscal year ending March 2018.
In the company's earnings call, EA Chief Financial Officer Blake Jorgensen and company CEO Andrew Wilson discussed the games titan's future plans. Here's a quick selection of discussion points:
More than 12 games in development are using Frostbite

EA will reveal big eSports-related announcements at Gamescom

Future Star Wars games may be aligned with theatrical releases

Company doesn't expect to earn big revenues from Battlefront 2's microtransaction system out of the gate, says Q3 or Q4 will see biggest spikes

EA believes technology will change more in the next 5 years than it has in 45 years

Shows strong interest in AR and VR, with more emphasis on AR

SEED research division is researching AR/VR, AI, virtual humans and neural nets

Frostbite is a platform that's constantly being tweaked, updated, and innovated with large teams of developers--is constantly evolving and shifting

EA expects to sell 14 million copies of Battlefront 2