Nintendo currently has no plans to bring its games to desktops or laptops.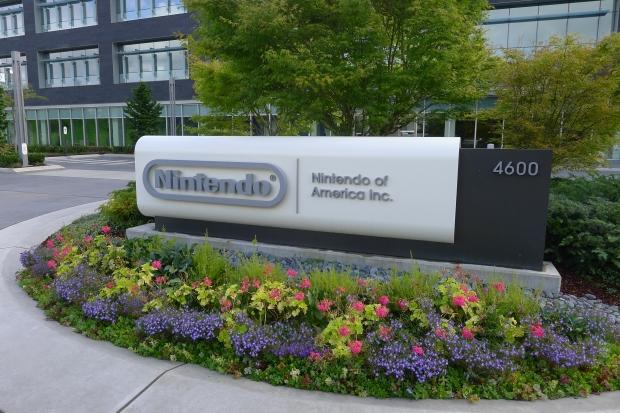 The House of Mario has changed dramatically over the years and is now a big success again. The company spent years swimming against the current with its stubborn attachment to a clandestine business model, but has since turned everything around by embracing market trends. Nintendo traditionally has tried to make trends instead of follow them, and this approach worked quite well over the years until it hit a brick wall with the Wii U.
Now that the Kyoto-based games-maker has evolved by embracing a new age of technology and market trends, it's successfully done both: it's changed the game with its massively popular new Switch handheld-console hybrid, and swims with the current by bringing its world-class IP to smartphones for the first time.
While Nintendo's paradigm shift towards a more open integrated hardware and software business has paid off, the company is still slow to further change. Its mobile releases are staggered over many months to ensure quality and avoid saturation, but Super Mario Run was by far and large a misstep due to its free-to-start business method. Nintendo weighs its moves very carefully in regards to the Nintendo Switch, too, keeping big games releases appropriately spread across the year and keeping big updates like Virtual Console and the paid online service close to its chest.
But there's one platform Nintendo just isn't ready to pursue yet: PC.
Nintendo could one day tap this platform in a lucrative way--never say never, after all--but for now the games-maker has no plans to embrace desktops and laptops. Instead, Nintendo President Tatsumi Kimishima says, the company will focus on smartphones as the only new branch to its integrated business.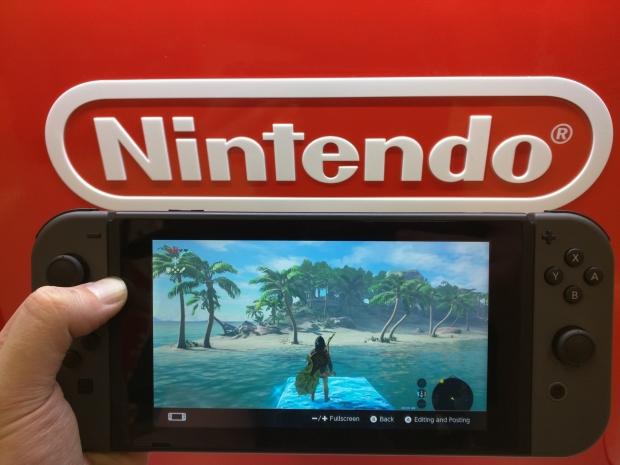 At the 77th Annual General Meeting of Shareholders in Japan, Nintendo President Tatsumi Kimishima was asked if the company is "planning any software or hardware initiatives in the PC market," to which he responded:
"We are aware that many consumers play PC games. However, we believe that the integrated hardware-software business is the best way for us to provide the surprises and new gameplay experiences that we want to achieve," Mr. Kimishima said.
"On the other hand, we offered three applications for smart devices during the previous fiscal year, and, though the content and consumers playing the applications were different, each one was received extremely favorably.
"Super Mario Run, for example, achieved 150 million downloads worldwide, and consumers who had never played our games before were able to experience our IP on their smart devices. We believe that we can further expand our core integrated hardware-software business by providing our software on smart devices and increasing the number of consumers who experience our IP."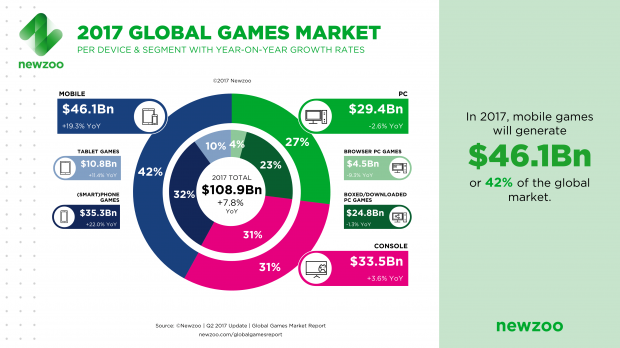 Smartphones are much more accessible than dedicated gaming PCs and even laptops, and mobile gaming is currently the most lucrative segment of the games industry. Analyst firm Newzoo predicts mobile gaming will make $46.1 billion in 2017, or 42% of all revenues this year.
However, PC gaming is quite big too. But if Nintendo brought its games to desktops and laptops, it'd likely do so in a way typical PC gamers wouldn't expect: browser games.
Free-to-play browser games are quite lucrative and are projected to make up 15% of total PC gaming revenues in 2017.
These games typically run great on lower-end hardware, making them much more accessible and widely available than demanding PC games. The free-to-play nature ensures strong monetization with in-game purchases, not unlike mobile games, and a recurring stream of updates and content for players to consumer.
Newzoo forecasts that PC browser games will pull in $4.5 billion in global revenues in 2017.
It'll be interesting to see if Nintendo one day embraces PC gaming, but if it does, don't expect it to bring its major IPs to a platform like Steam. If anything Nintendo would make its own digital storefront for PC gaming to circumvent Valve's 30% fee.
Remember that Nintendo's main revenue source is from software and hardware sales. Yes, a new platform could open the doors to more software sales, but the company is shy from specific unregulated platforms in terms of IP control and revenue. Nintendo is treating the mobile gaming platform as a kind of extension of its business that bleeds over to its dedicated hardware; everyday gamers download a free mobile game which creates buzz and raises awareness about Nintendo and its sphere of products, whilst also serving as a portal of revenue.
If Nintendo brought traditional full game downloads to PC, it'd be a full-on arm of its business rather than an extension. If gamers could buy and play Nintendo games on PC, they likely wouldn't buy dedicated Nintendo hardware to play different games.
As such, the path would likely dead end into PC gaming rather than potentially branch out as it can via the mobile games approach.