Browser games to make up 15% of PC gaming 2017 revenues
PC gaming isn't just about high-end enthusiast desktop game--the segment owes a nice chunk of its yearly earnings to social and browser-based games.

Published Tue, Jun 20 2017 6:15 PM CDT
|
Updated Tue, Nov 3 2020 11:55 AM CST
PC gaming owes a portion of its yearly global revenues to browser-based games like Runescape and Drakensang Online.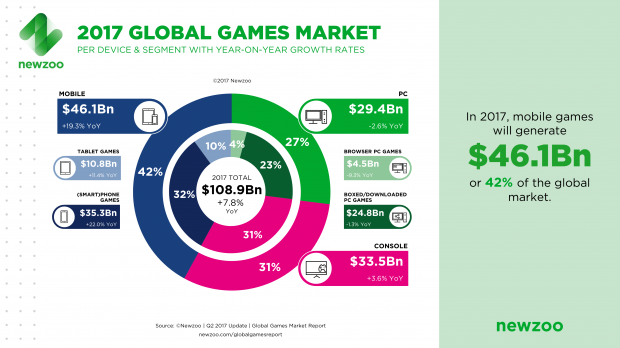 The PC gaming segment isn't just about high-end 4K visuals, thread-ripping CPUs and the most powerful video cards--it has an accessible side to it where anyone can jump in and play even with older laptops and hardware. The PC browser market is filled with free-to-play games with freemium-style microtransactions that earn quite a bit of revenue every year.
According to Newzoo's latest 2017 global games market report, browser-based gaming will rake in $4.5 billion in 2017, down 9.3% year-over-year. Since PC gaming is forecasted to make $29.4 billion in total revenues, PC browser games will be responsible of 15.3% of the segment's total earnings.
Traditional digital and boxed PC games are to make $29.4 billion in 2017, down 1.3% year-over-year, compared to console gaming's $33.5 billion, which is up 3.6% year-over-year.
Console gaming is expected to make up 31% of total game sales revenues in 2017, versus PC gaming's 27%.
This is likely attributed to the influx of new titles to be released throughout 2017 including Call of Duty WWII, Destiny 2, Star Wars: Battlefront II, and Assassin's Creed: Origins onto the console market's massive install base. Sony recently confirmed that it's sold more than 60 million PlayStation 4 consoles, and reports indicate Microsoft may have sold as many as 39 million Xbox One units to date.
According to Newzoo, consoles are to generate $8.7 billion more than traditional boxed and digital PC games, and $4.1 billion more than the PC gaming's total segment.
Compared to total games revenue earnings for 2017, however, PC browser-based games only make up 4% of revenues. The report also forecasts that digital games revenues will make up 84% of the market at $94.4 billion of the total $108.9 billion projected to be earned in 2017's game sales.
By 2020, Newzoo predicts that PC game sales will shrink to 22% of the overall yearly games sales, with browser-based PC games and boxed/digital PC games dropping to 3% and 19% of global sales revenue respectively.
Related Tags