Sony doubles down on VR commitment
Sony pledges support to its PlayStation VR headset with a slew of new games.

Published Sat, Jun 17 2017 1:24 PM CDT
|
Updated Tue, Nov 3 2020 11:55 AM CST
E3 2017 - Sony revitalizes its commitment to its PlayStation VR headset at E3 with a smattering of new virtual reality content.
At it's E3 2017 showcase, Sony revealed more PlayStation VR games than it did new PS4 titles, sending a clear signal: Sony Interactive Entertainment isn't giving up on its console-powered VR infrastructure. Since it's launch in October 2016, Sony's PlayStation VR headset has sold 1 million units to date. While that might seem an impressive number, the $399 premium VR HMD's attach rate is quite small: the PlayStation VR has only penetrated 1.67% of the PlayStation 4's massive 60 million console install base.
To attract more PS4 users to adopt PlayStation VR, the console-maker is investing into more games to fill out the headset's catalog of titles with a number of high-profile exclusives and ports. The principal PSVR exclusive is Bethseda's new Skyrim VR, which brings 2011's award-winning RPG The Elder Scrolls V: Skyrim into virtual reality for the first time. Sony announced a total of 12 new PlayStation VR games at the show and on its YouTube channel.
Outside of the newly announced Shadow of the Colossus HD remake and Life is Strange: Before the Storm, Sony didn't actually show off any new full games for the PS4. The console-maker showcased multi-platform third-party partnered titles like Call of Duty: WWII, Destiny 2, Monster Hunter World, and Marvel vs Capcom: Infinite. In fact, Sony showed more new PlayStation VR games than it did new PlayStation 4 games, sending a clear message that the platform is far from being abandoned.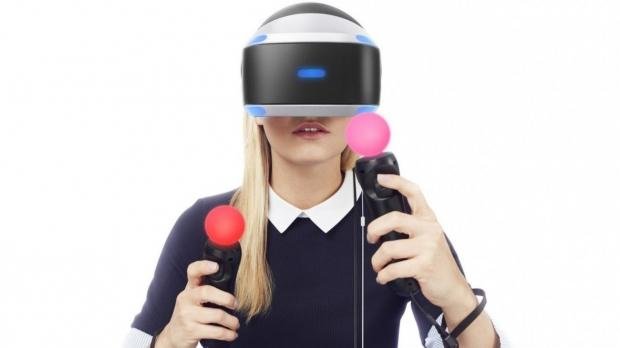 Sony's PlayStation VR headset with two PS Move controllers
The following PlayStation VR games were announced at E3 2017:
During Sony's E3 2017 showcase:
Skyrim VR

Star Child

The Inpatient

Final Fantasy XV: Monster of the Deep

Bravo Team

Moss
Pre-E3 or YouTube channel uploads:
No Heroes Allowed

ROM: Extraction

Archangel

SUPERHOT

Sparc

Tiny Trax
Other PlayStation VR games were announced via trailers and pre-E3 reveals, too. These include titles like No Heroes Allowed, Archangel, ROM: Extraction, SUPERHOT,Sparc, and Tiny Trax.
Taking a look at Sony's major E3 2017 show we see some interesting signals.
The majority of mainline PlayStation 4 exclusives won't even release in 2017. Sony Santa Monica's new God of War won't hit until 2018, ditto for Spider-Man and the new Shadow of the Colossus remake. Other games like Knack 2 and Uncharted: The Lost Legacy and the new Horizon: Zero Dawn DLC will fold into third-party titles like Call of Duty WWII, Assassin's Creed: Origins, and Destiny 2 to help round out the PS4's 2017 lineup.
Some of Sony's key PS4 exclusives didn't even get release dates or missed the show entirely. Detroit: Become Human and Days Gone both lacked an official release date, and The Last of Us 2, announced at last year's E3, was nowhere to be seen. This affirms Sony's new focus on showing games that will release sooner rather than later.
Focusing back on VR, Sony has confirmed the PlayStation VR headset will have a long lifespan.
Shuhei Yoshida, President of Sony's Worldwide Studios for Sony Interactive Entertainment, has asserted that Sony has no immediate plans to manufacture and release a PlayStation VR successor any time soon.
"We just released last year, and we're trying to catch up with the demand, so you know, we have no plans to talk about the successor to the PSVR. We developed alongside with PS4, so it's completely optimised to work with PS4," Mr. Yoshida said in a recent interview with games outlet Jagat Play.
Based on our assessment of Sony's 2016 financials, we've predicted that Sony will not release a new mainline PlayStation 4 console in at least 2-3 years.

Sony's newer Playtation 4 Pro model sells for $399, and can play games in 4K with HDR support
Next fiscal year will be a turning point for Sony as coprorate president Kazuo Hirai will formulate a new mid-year plan to propel the console-maker's future.
Mr. Hirai has already said that Sony's Games and Network Services--which includes the PlayStation 4, PlayStation VR, and PlayStation Plus services--are essential to the company's future, but didn't make any mention of a new console. Instead of a new PS4 the company will focus on new ways to expand the PlayStation 4's install base and offer new services to increase revenue streams, including adding more value to its lucrative PlayStation Plus service.
"FY2017 is the final year of the current mid-range plan and is the year during which Sony will establish the next mid-range plan," Mr. Hirai said in the company's recent Corporate Strategy Meeting.
"In order to achieve the 10% ROE and 500 billion yen operating income targets we have set for this fiscal year, and to generate a sustainably high level of profit from next fiscal year and beyond, we not only need to generate stable profit in consumer electronics, as I have been saying, but we also need to increase profit in the Game and Network Services segment."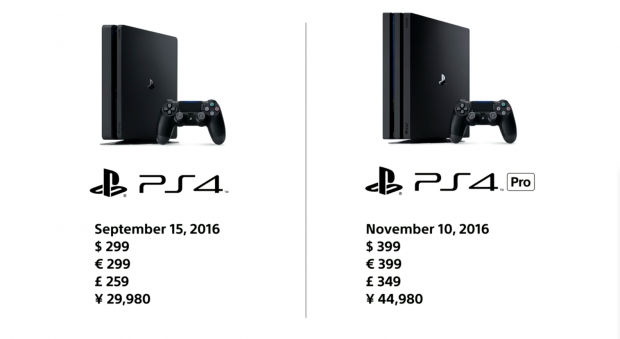 Sony released a new "slim" PS4 model alongside the PS4 Pro, replacing the original 2013 launch model at a lower cost
However, Macquarie Capital Securities analyst Damien Thong predicts that Sony will release a next-gen PlayStation console by the second half of 2018. It's highly like that this new system will be an iterative console that will play all existing PS4 games and be compatible with the PlayStation VR headset.
Sony's most recent $399 PlayStation 4 Pro console, which offers higher-end hardware over the base PS4 model, was release in November 2016. Sony has said that 1 in every 5 PS4s sold is a Pro model. The PS4 Pro also plays PSVR games better than the base model thanks to its higher-end hardware, which is also able to play games at 4K on UHDTVs and offers HDR for brilliant experiences.
It will be interesting to see how far Sony pushes its PlayStation VR initiative, but so far the company has signaled that their support is here to stay.
Related Tags