Far Cry 5: Everything you need to know
Ubisoft Montreal drops a megaton bomb of info on its latest open-world Far Cry game.

Published Fri, May 26 2017 7:47 PM CDT
|
Updated Tue, Nov 3 2020 11:55 AM CST
Ubisoft sates our curiosity about Far Cry 5 with a huge fact sheet full of details.
Far Cry 5 is shaping up to be quite an interesting-looking game; not only does the game follow the franchise's radical and ultra-violent themes by capturing a religious-based cult gone wrong, but it comes to the United States for the very first time. Ubisoft Montreal will develop the game, and the devs have packed in tons of features and content to ensure Far Cry 5 feels like the best Far Cry yet.
As we reported a bit ago, Far Cry 5 will have a dynamic open world that reacts to your in-game decisions, and evolves with time. Whatever you choose, bad or good, the world will change along with your character. The game will also feature a fully-fledged co-op mode that lets players team up with friends for the entire campaign. Ubisoft boasts that Far Cry 5 features the biggest assortment of customizable weapons and vehicles of any game in the series, and features a plethora of memorable characters as well as a riveting, ever-changing storyline that evolves with your decisions.
Far Cry 5 will release February 27, 2018. Check below for everything you need to know about the game, including a bunch of trailers at the very bottom.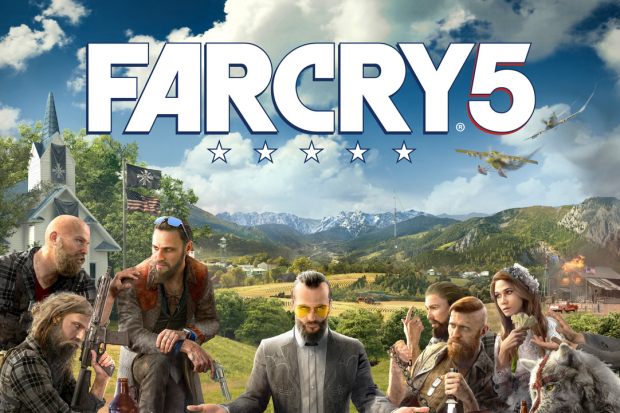 Developer: Ubisoft Montreal
Publisher: Ubisoft
Release Date: February 27, 2018
Genre: Open-world, action-adventure
Platform: PS4, Xbox One, PC, Project Scorpio, PS4 Pro
ESRB: M for Mature
URL: far-cry.ubi.com
Far Cry comes to America in the latest installment of the award-winning franchise.
Welcome to Hope County, Montana. This idyllic place is home to a community of freedom-loving people - and a fanatical doomsday cult known as The Project at Eden's Gate. Led by the charismatic prophet Joseph Seed and his devoted siblings - The Heralds - Eden's Gate has been quietly infiltrating every aspect of daily life in this oncequiet town. When your arrival incites the cult to violently seize control of the region, you must rise up and spark the fires of resistance to liberate a besieged community.
Freely explore Hope County's rivers, lands, and skies with the largest customizable weapon and vehicle roster ever in a Far Cry game. You are the hero of the story in a thrilling world that hits back with every punch, and where the places you discover and the locals you ally with will shape your story in ways you'll never see coming.
Key Features
SPARK THE FIRES OF RESISTANCE AGAINST A FANATIC CULT
Stranded in hostile territory, find strength in the community around you to lead a resistance against a cult taking over Hope County, Montana.
A huge cast of memorable characters including Mary May, local saloon owner; Nick Rye, family man and plane enthusiast; and Pastor Jerome Jeffries, a preacher whose flock has been led astray.

Recruit Guns for Hire and leverage the special skills of up to 3 at a time to turn the tables on The Project at Eden's Gate.

Command specialized Fangs For Hire, animals you can control to support any playstyle.

Ally with a Friend For Hire to take down the cult in a two-player co-op experience that extends across the full campaign.
CARVE YOUR OWN PATH
The freedom to go in any direction - you decide the when, the where, and the how.
From the moment you enter Hope County you have the freedom to tackle the world in any order you choose.

For the first time in Far Cry, you are the hero of the story - choose your own avatar and customize your character.

Create insane and unique Far Cry experiences with the map editor, to enjoy with or against your friends!
A WORLD THAT EVOLVES
Play your way against Joseph Seed and his fanatical followers in a dynamic open world that adapts and reacts to the choices you make.
The Resistance Meter evolves the world in meaningful ways as you progress; every action you take moves your story forward.

Disrupt the cult's doomsday preparations to draw The Heralds into epic showdowns in the open world.

Your choices affect the world as new gameplay opportunities arise from the chaos.
DYNAMIC TOYS
Tear up the countryside in iconic American vehicles you can make your own; from muscle cars to big rigs, from ATVs to tractors.

Commandeer a plane to engage cult forces in an epic aerial dogfight or bombing run.

Discover the natural riches of the Montana wilderness as you hunt, fish, and explore every inch.
Related Tags