Square Enix plans to accelerate its Mobile / PC Browser gaming segment to counterbalance low full-game sales, and we should see more mobile titles this year than ever before.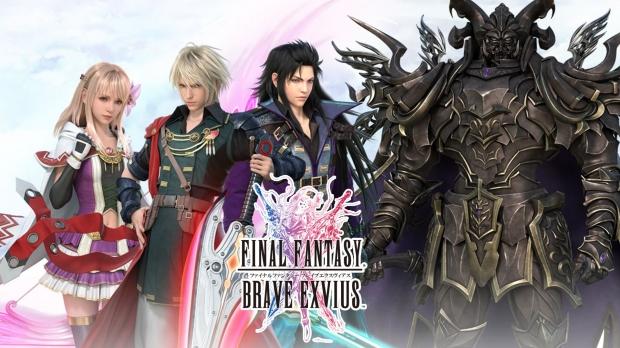 In our latest Square Enix financials report we dissected the company's latest Fiscal Year 2017 earnings, and also highlighted where the publisher will go in 2018 and beyond.
While most gamers are itching for news on Final Fantasy VII: Remake and Kingdom Hearts III, this year will be a low-point for big-name Square Enix games, especially after the flurry of AAA releases in FY2017 (Final Fantasy XV, Nier: Automata, Deus Ex: Mankind Divided). Instead of belting out new juggernauts, I predict Square Enix will use the strength of its mobile IPs to buoy revenue streams and carry momentum into the next fiscal year, who's pipeline likely includes the aforementioned anticipated RPGs.
But why do I think this? There's quite a few clues in the company's Fiscal Year 2018 forecasts.
First here's a quick refresher on Square Enix's games business structure (trust me, this is important).
Digital Entertainment
HD Games - Full-game releases via digital and packaged discs
MMO - Full- game releases via digital and packaged discs / expansions via digital and packaged discs
Mobile / PC Browser - Digital only, not counted as full-games
Now we've gotten that out of the way, let's get on with the evidence.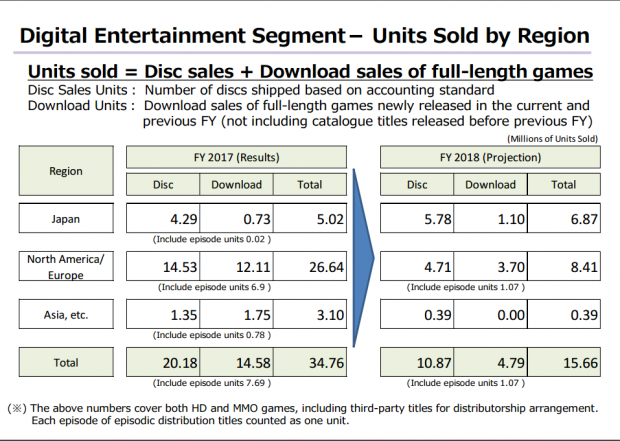 The publisher forecasts a massive 55% decrease in full game sales during FY2018: full-game sales are projected to hit 15.56 million, versus the rock-solid 34.76 million games sold in FY2017.
Square Enix's FY2018 games pipeline is quite conservative and consists of Final Fantasy XII: The Zodiac Age, an unannounced game, and MMO expansions for Final Fantasy XIV (Stormblood) and Dragon Quest X. But despite selling 55% less games, Square Enix expects to make quite a bit of revenue.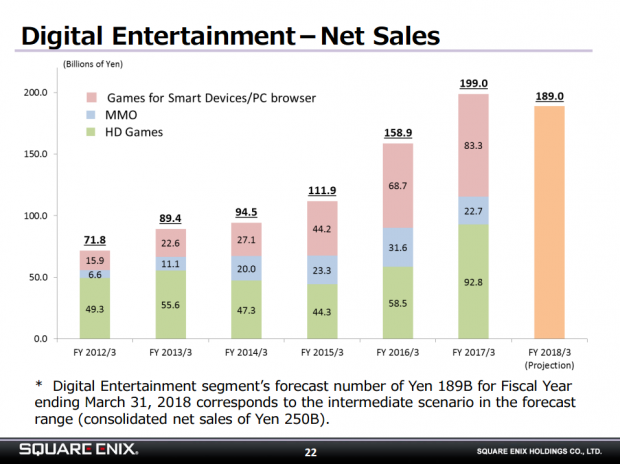 The company's FY2018 projections estimate net sales of $2.11 billion - $2.28 billion (240 - 260 billion yen), and operating income of $220 million - $264 million (25 - 30 billion yen).
Furthermore, net sales of its Digital Entertainment arm are estimated at $1.66 billion (189 billion yen).
Wait a minute...how will Square Enix keep net sales and operating income up if it sells significantly less packaged and digital copies of full-length games?
FY2018's forecast isn't that far from FY2017's, and the latter had the full brunt of multiple AAA games to pull in tons of revenue.
For reference, here's a quick recap of FY2017's earnings:
Net Sales - $2.26 billion (256.8 billion yen)
Operating Income - $274.6 million (31.2 billion yen)
Net Profits - $170 million (20 billion yen)
Digital Entertainment Segment Net Sales - $1.76 billion (199 billion yen)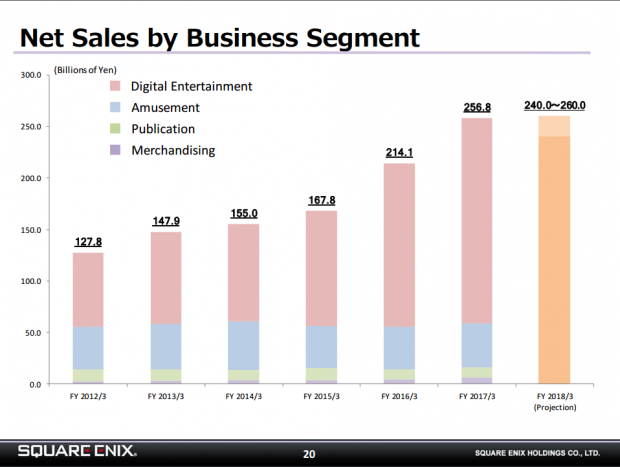 The publisher typically makes most of its revenue from HD Games; in FY2017, full-game releases in the HD Games segment raked in $816.78 million (92.8 billion yen) in net sales in FY2017, accounting for 36% of Square Enix's total Digital Entertainment segment's net sales.
However, if Square Enix only has a minimal number of new HD Games in the pipeline, it's projected sales drop significantly.
Now it's up to the company's second-best earning segment to stabilize revenue: mobile gaming. Remember that digital mobile/PC browser games don't count as full games, so they're not included in the game sales forecast.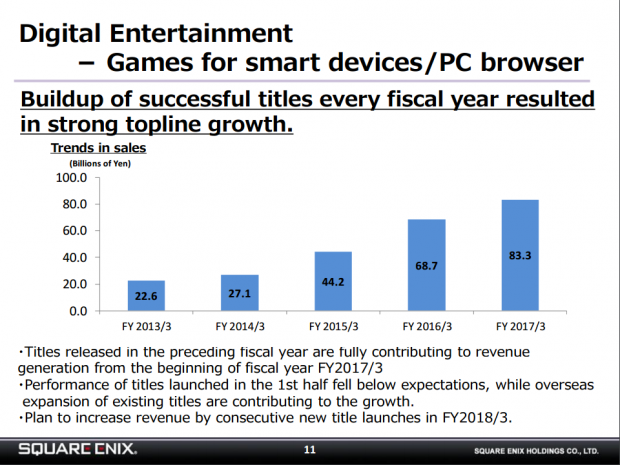 Square Enix's Mobile / PC Browser segment is extremely lucrative, and thanks to a number of benefits such as instant accessibility, active monetization via in-game purchases, high growth and engagement strategies via tactical updates and expansions, and strong engagement, this sector has the potential to dethrone HD Gaming.
In fact, the mobile segment brought in $733.1 million (83.3 billion yen) in FY2017, or 32.43% of Square Enix's total net sales for the fiscal year.
The publisher is quite aware of mobile's potential and plans to tap the segment to off-set the sales drops in full game sales. "Buildup of successful titles every fiscal year resulted in strong topline growth," Square Enix affirms.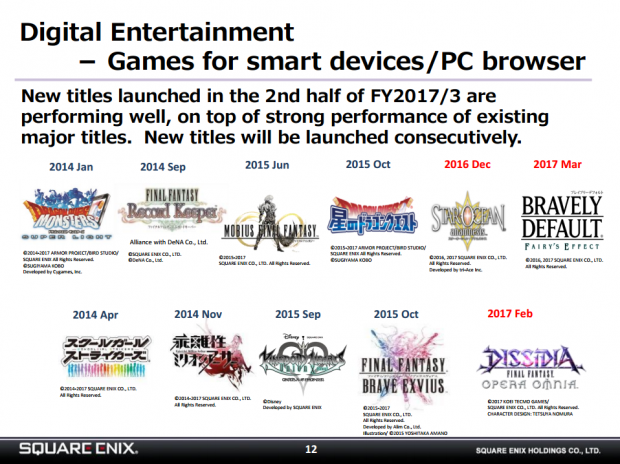 The games-maker has released 11 mobile and browser-based games since 2014. The typical release schedule is 4 mobile/browser games a year, but FY2018's timetable should be accelerated significantly to provide strong sales growth to counterbalance the cut in full-game sales.
Square Enix reinforces our forecast by promising that "new mobile titles will be released consecutively," and existing games are expected to continue strong performance throughout this fiscal year.
So there you have it: expect Square Enix to release more mobile games this year to compliment its rather shallow HD Games pipeline and MMO expansion roadmap. It'll be interesting to see what the studio has in store for us, and we should see concrete announcements at E3 2017 in June or Tokyo Game Show in September.