Square Enix plans to use its original IPs and backward compatible content to pursue "games as a service" initiatives in an effort to supplement its lucrative digital sales.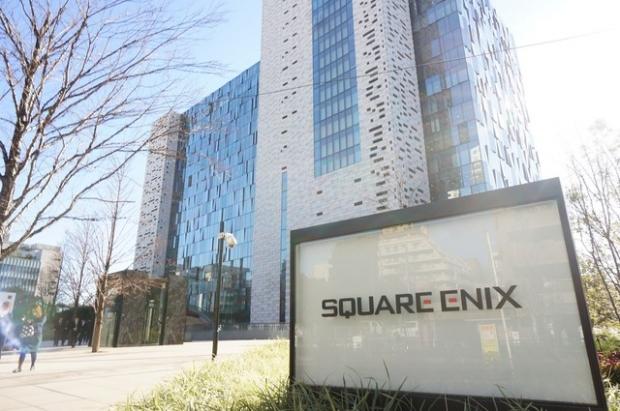 Like most publishers in the games industry, Square Enix makes most of its earnings via digital sales in the form of full game downloads, in-game purchases, and other live service content across consoles, PC, and mobile. In its Fiscal Year 2017 earnings report, the Japanese games publisher says it will launch a "Square Enix digital sales global website" that will "create a libraty of catalog titles and eliminate backward compatibility issues."
This strongly suggests Square Enix will roll out its own dedicated Steam-like games marketplace to sell digital content, possibly complete with a proprietary uPlay-like games launcher; but unlike Steam, Square Enix's website or service should cater to all platforms.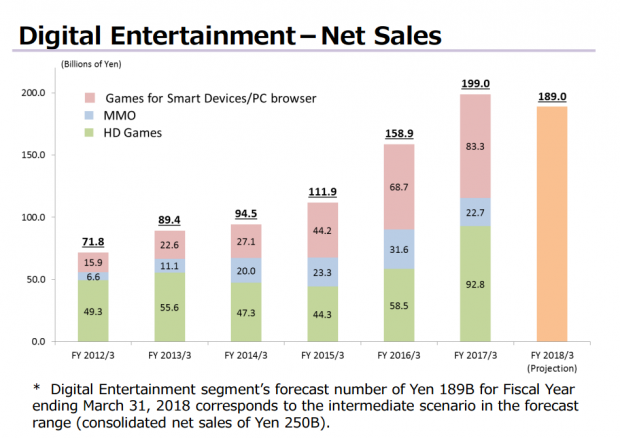 In its Fiscal Year 2017, the publisher reported $1.75 billion (199 billion yen) in digital net sales, with HD Games accounting for 46.6% of total digital net sales with $819.2 million (92.8 billion yen). However the mobile sector is extremely profitable for the publisher, and mobile/browser games pulled in 41.4% of total digital net sales with $735.3 million (83.3 billion yen).
The publisher's digital numbers might be strong but its global digital reach could use some uplifting. The company wants to broaden its scope beyond North America with the new digital games marketplace.
Square Enix sells most of its digital games to North America and Europe, which far eclipse digital net sales of any other region.
Data shows that Asian regions are far less likely to purchase games digitally and instead opt for physical disc-based software. With its new marketplace website the company hopes to change this and stimulate digital sales for all global regions.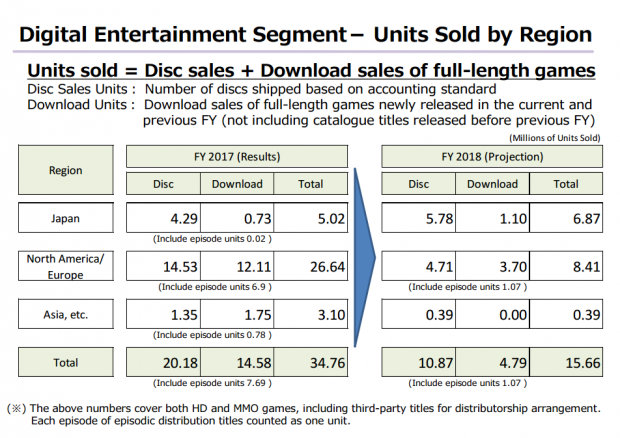 The numbers: SQEX to capture global digital market with new online storefront
For example: the publisher sold 12.11 million full-game downloads in North America and Europe in FY2017, or 34.8% of all software sales during the year.
Compared to Japan, the gap is much more pronounced: Square Enix sold just 0.73 million digital downloads, or a paltry 2.1% of total software sales.
While it's true that more North American and European gamers purchased disc-based games over digital downloads, the gap between digital and physical is only 2.44 million units, compared to Japan's 3.56 million.
Asia and other regions saw more digital sales than physical, likely due to the emphasis on PC gaming in the APAC territory. These regions also had a less pronounced digital vs disc plateau of only 400,000 units, in favor of digital sales.
These figures illustrate where Square Enix currently is with its digital sales, and offers a guideline for where it wants to be. Armed with an accessible and easy-to-use global digital marketplace, the publisher will almost certainly enjoy higher volumes of digital content sales across the board.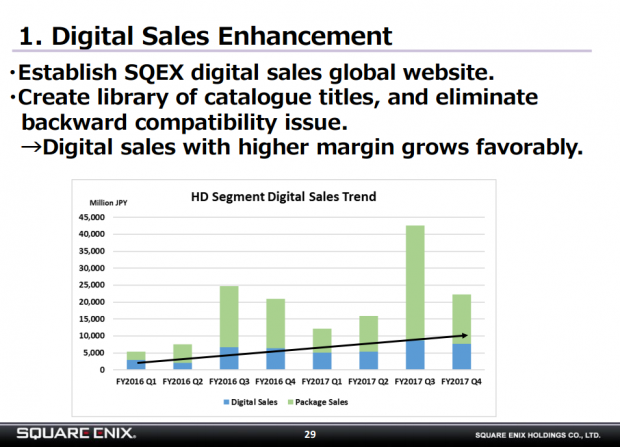 What will the digital shop be like?
I speculate that Square Enix's digital storefront will mimic Nintendo's eShop, featuring a wide swath of games across all platforms and regions.
Given the publisher discusses backward compatible titles, we should see a massive array of retro and older key IPs and content available on the marketplace, and I expect it to link to major console-powered ecosystems such as Xbox LIVE, PlayStation Network as well as PC's Steam and GOG.com.
However, if Square Enix is to manifest this storefront as I envision it, the publisher will need to make its own games client.
This would underline the company's statements of "games as a service," and essentially mirror major games clients like Ubisoft's uPlay and Electronic Arts' Origin. This would effectively see a global service merged with a games client/launcher and a complete global digital storefront that crosses PC, mobile, and consoles.
The publisher has not fully announced plans of its storefront website but a reveal at E3 2017 is possible.