Capcom's 2016 financials outline company's future
Capcom's financials show key growth in its gaming division, and outlines its plans for 2017 - 2018.
Published
5 minute read time
Capcom just reported its yearly earnings, and they're positive.

As with any company's financials, Capcom's latest Fiscal Year 2016 earnings give us a good idea on its current position and its plans for 2017. Capcom recorded increases across the board in net sales, operating income, and bottom-line profits. From April 1, 2017 to March 31, 2017 Capcom earned 87.1 billion yen ($781.68 million) in net sales representing a 13.2% increase year-over-year. Operating income was boosted by 13.5% YoY to 13.65 billion yen ($122.4 million). Finally we have Capcom's bottom-line profits, which boosted by 14.6% YoY to 8.87 billion yen ($79.6 million).

Capcom's Digital Contents division--games across all platforms--is by far the company's most lucrative segment, and also enjoyed boosts in net sales, but losses in operating income. The division's net sales increased by 11.7% year-over-year to 58.7 billion yen ($526.4 million) due to strong sales of key IPs like Resident Evil 7 and Monster Hunter XX as well as other online titles. Operating income was down by 8.8% YoY to 11 billion yen ($99.5 million).
So what about the future? What is Capcom working on?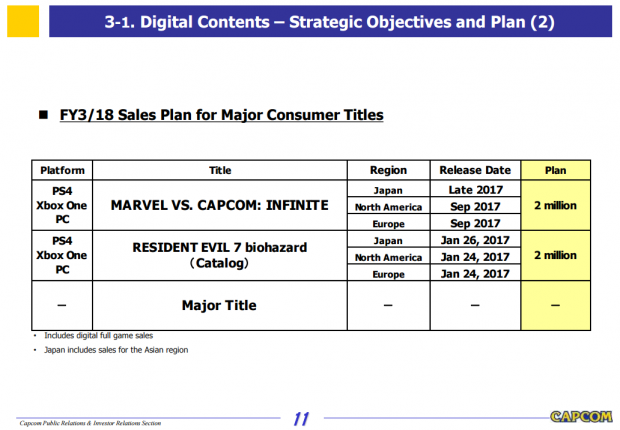 The company says it will release two big titles in its 2017-2018 fiscal year, and one of those games will be Marvel vs Capcom: Infinite.
The other game has yet to be revealed, but we're betting it's Devil May Cry 5. Capcom expects to sell 2 million copies of MvC: Infinite across the globe, and another 2 million copies of Resident Evil 7.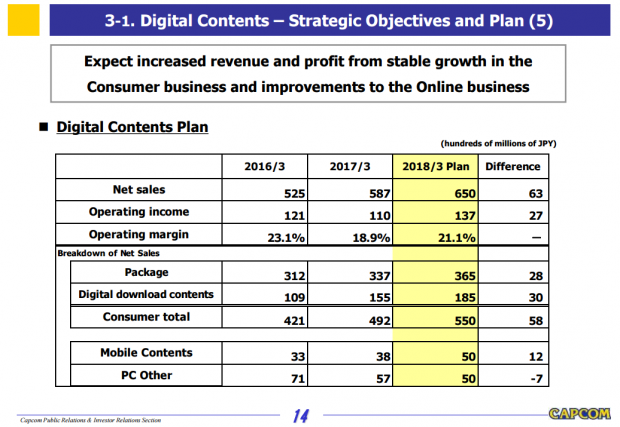 This new game could be another Monster Hunter game. At a total of 39 million global sales the Monster Hunter series is the second most profitable and popular IP in Capcom's arsenal. However Capcom recently released Monster Hunter XX and Monster Hunter: Stories, so bear that in mind.
Consumer Strategies

Reap stable contributions from major brands

Launch 2 major titles

Bolster lineup of current-generation console re-releases; promote multiplatform

development, including for the Nintendo Switch

Explore leading-edge markets, such as eSports with Street Fighter V

Focus on brand penetration in growth regions such as Asia to establish future revenue sources

Grow revenue with digital downloads (full game and additional content)

Accelerate roll-out of digital download offerings from our back catalog of 79 million-seller

titles and other contents-based assets

Digital revenue forecast: 33.6% of Consumer net sales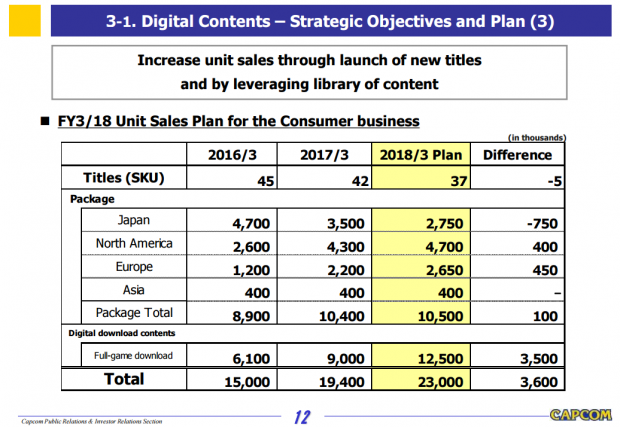 Capcom will "bolster development of new titles that use Capcom IP" and re-release key games across all platforms like PC and Nintendo's new Switch handheld-console hybrid. We should also see more collection-based games with old classic games (Mega Man Collection).
Brand synergy is also key for Capcom, so the bigger games will have cross-platform integration via mobile games, movies/anime, pachinko, etc. We could even see a Devil May Cry 5 anime or series of some sort--assuming Capcom really is developing the game.
Capcom is also investing more into research and development, and expects to sell more games in the United States and even less games in Japan. Whatever the company is working on, it looks like they want to capture the North American market to a fuller extent.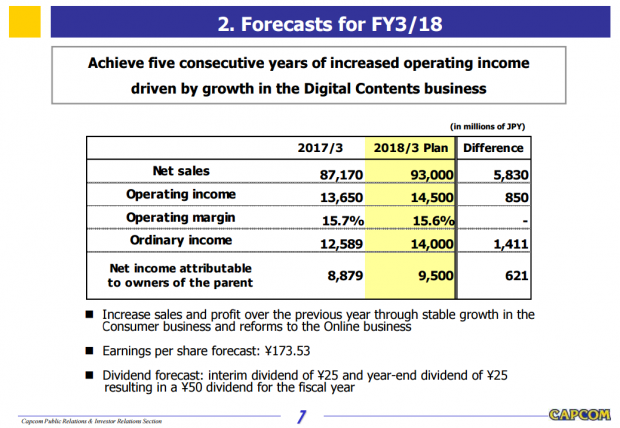 For its FY17 guidance (April 1, 2017 - March 31, 2018), the Japanese games-maker expects increases across the board.
All segments are predicted to deliver boosted results in net sales and operating income. Total net sales are predicted to jump by 6.68% YoY to 93 billion yen ($833.9 million). Operating income is forecast to raise 6.22% YoY to 14.5 billion yen ($130 million). Total bottom-line profits are forecast to raise 6.9% to 9.5 billion yen ($85.1 million) in FY2017.
Capcom financials: Key facts
Capcom shipped more games to North American than it did to Japan (NA: 4.3 million, JP: 3.5 million)

Capcom shipped more PS4 games than any other platform (4.7 million units)

The company shipped a total of 19.4 million games last year

Capcom expects to sell even less games in Japan in FY2018, and even more in North America

Capcom will spend $269 million on research and development this fiscal year, up by $20 million since last year

Expect more mobile games and online games set in Capcom IP

Cross-platform remasters and re-releases in collection form--Mega Man Collection, Disney Afternoon Collection, etc--will also happen

Expects digital sales to make up 33.6% of its consumer game sales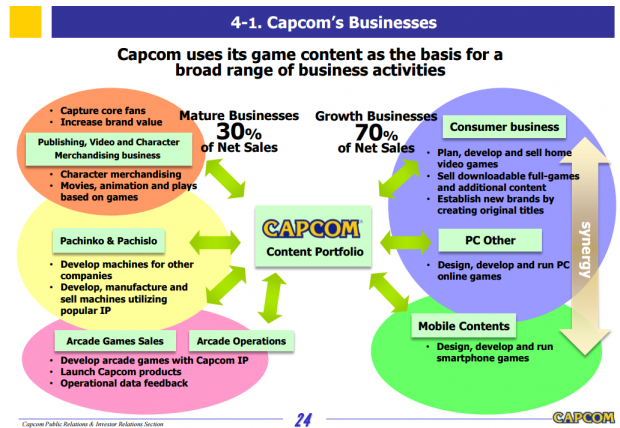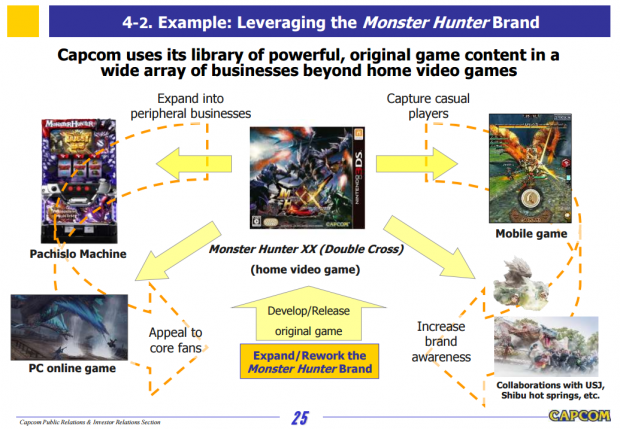 Check below for a full briefing of Capcom's FY2016 earnings, and its plans for the future.
Looking forward, the market environment is changing rapidly with the emergence of new business areas in VR (virtual reality) and AR (augmented reality) as well as further increases in mobile contents and the spread of online games. In addition, Nintendo Switch, a new home video game console, was released in March 2017.

Amidst such structural changes to the industry, the Company will endeavor to increase profitability through business management based on selection and concentration. This will include the allocation of development resources in accordance with the Company's medium-term strategic map to priority divisions, such as home video game software development, which is its core competence, and mobile contents.

In addition to package game sales, the Company will focus its efforts on expanding digital download sales, which promise higher profitability, in order to diversify its profit structure. The Company will also endeavor to further cultivate existing customers while developing new customers by enhancing its product line-up, which includes releasing distribution titles as well as re-releasing or remaking popular titles from its back catalog.

Holding a significant number of popular IP, such as Monster Hunter and numerous others, the Company will strive to leverage these valuable assets to generate synergy and break through the current situation of its online games and mobile contents businesses. At the same time, the Company will promote the development of appealing titles in-step with market trends, through the development, marketing and operations departments working as one. Additionally, it will continue to build a value chain, seeking to increase customer satisfaction through the timely provision of additional contents.

Expansion of sales in large overseas markets is essential for the achievement of the Company's growth scenario.The Company is one of the world's leading contents holders with many brands that are popular overseas including Resident Evil and Street Fighter, both of which have been made into Hollywood films. The Company will promote aggressive global strategies by leveraging these strengths, coordinating with its overseas subsidiaries in releasing software that meet overseas customer demands and increasing its presence through the popularization of the "Capcom Brand."

Meanwhile, the pachinko & pachislo market faces some uncertainty due to the recent revision in the pachislo model certification method and the strengthening of applicable regulations. However, the Company will expeditiously develop compliant equipment and promote business flexibly to enable it to respond promptly to changes in the industry.

As home video game consoles and smart devices continue to advance, offering support for features such as VR and high-definition 4K resolution, enhancing development infrastructure will be crucial to the development of video game software suitable for game consoles with sophisticated functions while satisfying diverse customer needs.

Under the slogan "from Osaka to the world," the Company opened its R&D Building #2 in 2016 as a new game development hub. The Company will continue to engage in aggressive business management, keeping in mind strategic business alliances, mergers and acquisitions, and any other options available for the achievement of sustainable growth and improvement of medium- to long-term corporate value.

Additionally, the Company has been promoting the establishment of a work-life balance through child-rearing support and other initiatives, empowering employees to pursue both their career and childrearing in order to secure and utilize superior talent. As a part of this endeavor, the Company opened onsite childcare facilities in April 2017.
Related Tags