Nintendo Switch dock can charge your phone
The Nintendo Switch's dock is actually quite useful for recharging devices other than the Switch tablet.

Published Mon, Mar 6 2017 7:14 AM CST
|
Updated Tue, Nov 3 2020 11:56 AM CST
Nintendo's new Switch console-and-handheld hybrid system sports a dock with three USB ports in it, so we couldn't help ourselves from stuffing tons of devices into it to see what works. We already found out that USB keyboards are supported by the Switch, and now we see the dock can actually charge your phone.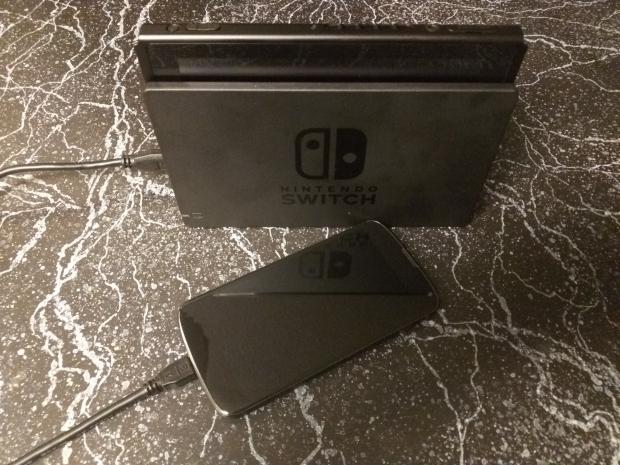 The Switch dock is actually a kind of nexus for power and video signals. The Switch tablet nestles into the dock's USB Type-C plug transferring a video signal out while power flows in to recharge the tablet's 4310mAh battery. The dock also transfers power to its three USB ports (2x USB 2.0 and 1x USB 3.0 that hasn't been activated yet), meaning whatever you plug into it will be able to leech off of the power output.
I plugged both my Nexus 4 and Nexus 6 Android smartphones into the Switch dock, and they both charged. Then I tried a LG G2, a Sony Xperia XA, a Nexus 10 tablet, a 7-inch Samsung Galaxy Tab tablet, a Nexus 5, and a Kindle Fire/Fire HD, all of which charged. The devices charged both with the Switch docked and undocked from the cradle.
Read Also: Nintendo Switch battery life test results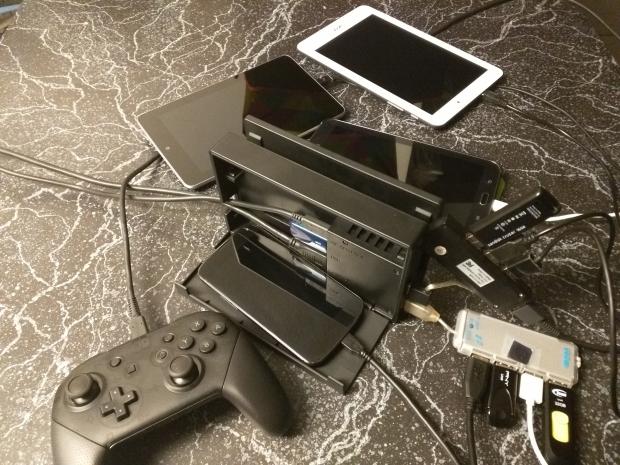 The Switch's AC adapter has two charge settings: 15V at 2.6A of flow which passes through the USB Type-C port and unlocks the Switch's GPU for full performance gains, and the traditional 5V at 1.8A, which is passed along to the USB ports.
Now I'm not sure if this flow is divided up among the three ports or if each port receives the same 5V at 1.8A electric current, but I'm thinking it's the latter. I did connect three devices to the three USB ports and they all seemed to charge at the same rate.
Interestingly enough the Switch's USB charge rate of 5V * 1.8A is actually somewhat better than my phone charger, which is rated at 5.2V * 1.3A.
Be sure to keep a look out for more Nintendo Switch coverage, including our feature length review, in the coming days!
Or you can click here to see a massive catalog of everything we've written about the Switch so far.
Related Tags