Yesterday we reported on Netflix's audacious requirements for streaming 4K video on PC: 4K streaming will be exclusive to PCs rocking a new Intel Kaby Lake i7 CPU and are only available on Microsoft's Edge browser. These restrictions will likely have an effect on gamers who own Sony's new PS4 Pro, and here's how.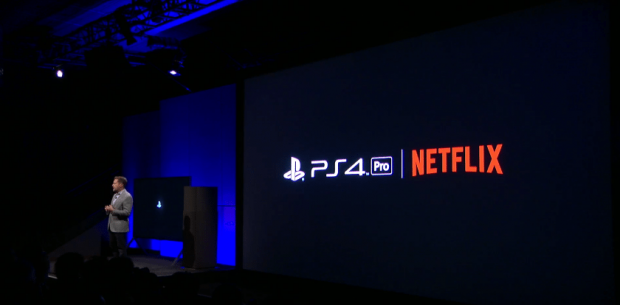 So why did Netflix create these restrictions? It's rather simple: bandwidth. 4K video streaming takes a lot of bandwidth, and by requiring Kaby Lake CPUs for 4K streaming, the company significantly reduced the bandwidth by making 4K streaming less accessible to the mainstream market. But what about PS4 Pro owners?
Sony's new PlayStation 4 Pro is all about 4K: it rocks a new highly-customized Polaris GPU built specifically for gaming on 4K HDR TVs. But it's missing something very important: a 4K UHD Blu-ray player. Sony's PS4 Pro doesn't have a 4K Blu-ray player, and the company is instead forcing gamers to stream 4K content online via its own overpriced ULTRA 4K service, and signing deals with partners like Netflix. Even though its missing a huge important piece, the PS4 Pro has sold quite well so far, indicating the system will soon hit mainstream success.
"Our feeling is that while physical media continues to be a big part of the games business, we see a trend on video towards streaming. Certainly with our user base, it's the second biggest use case for people's time on the system so we place more emphasis on that area," Sony Interactive Entertainment President Andrew House told The Guardian.
Read Also: Here's why Sony nixed PS4 Pro's 4K Blu-ray player
But wait a minute...Netflix has given a clear signal that it's not ready for total mainstream users to stream 4K video, at least not on most of today's PCs and laptops.
Despite these policies against everyday PC users, 4K UHD video streaming is currently available on the PlayStation 4 Pro and Xbox One S.
So this begs to question what kind of precedence Netflix will continue to give to PlayStation 4 Pro owners now and into the future, and whether or not Sony's deal with Netflix for its 4K content will see the company play favorites with the console versus everyday mainstream users. We could even see the Xbox One S eventually being put on the back burner along with most PC and laptop owners.
Or maybe Netflix is testing the waters using Xbox One S and PlayStation 4 Pro consoles? If you're wanting to stream 4K UHD Netflix content, your most likely solution is to pick up one of these systems for a combined experience as they double as games systems, or just pick up a Roku if your net's strong enough.
Bear in mind you'll need at least a 25megabit connection for smooth playback, and to pay the $11.99 UHD monthly plan.
It'll be interesting to see how this plays out, and if Netflix starts throttling bandwidth on certain consoles if too many consumers buy them for 4K streaming.