At this year's Reboot InfoGamer, I got to try out Starbreeze's John Wick: Chronicles, a highly anticipated VR game. There is a lot of hype around this game, which isn't surprising since the game is based on the wildly-popular movie John Wick starring Keanu Reeves.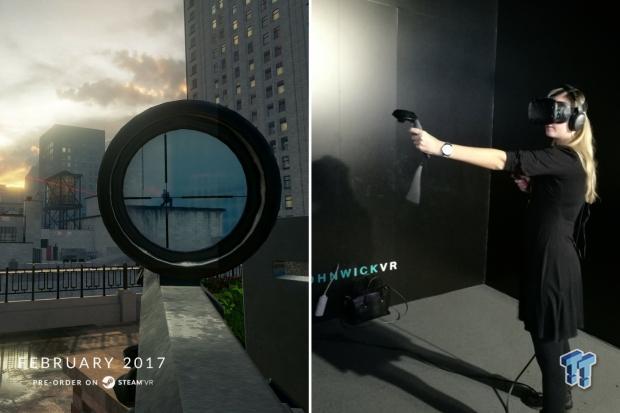 Earlier this week, I talked to Almir Listo from Starbreeze who clarified that the in-game action in set in between the two John Wick movies. He noted that they are actively working with Lionsgate Studio on the game, and they are very happy with their cooperation, which resulted in this amazing game.
The John Wick movie is filled with action, and when you transfer that into virtual reality, you get a whole new level of entertainment.
Starbreeze is developing the game for the HTC Vive, which is the headset I used while trying out the game. The demo lasts for eight minutes, which isn't that long but throughout the entire InfoGamer show, which lasts for six days, I witnessed huge lines in front of Starbreeze's booth with an average one hour wait time to try out the John Wick: Chronicles.
Once the demo starts, you find yourself in a hotel lobby while the voice of actor Lance Reddick is telling you to press a red button in front of you. The red button starts the trailer of the new John Wick movie shown in front of you. The movie will hit the theaters around the same time that the game comes out.
While I was busy watching the video, a bunch of guys started shooting in my direction, and I had to take cover. I instinctively hid under the table, cause I at that point I still didn't have any weapon to fight them off. Thankfully, an elevator arrived soon, and I was able to escape.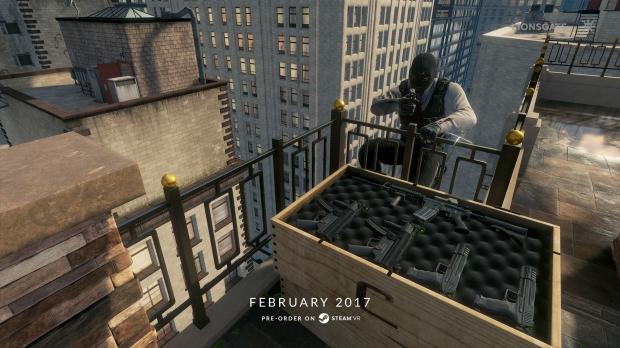 I found myself on top of the roof with a sniper and a lot of different guns next to me. I took a gun in one hand, and a sniper in the other one cause the wave of attackers started approaching me from different directions. The weapons are really simple to use. You reload them by doing a simple movement with your hands - you put them down next to your body and then back up. As for sniper, you have to put your hand (the controller) close to your eye so you can aim the enemies.
The enemies come from different directions and in waves. As the game progresses, more and more attackers approach you and you have to be quick to get rid of them all. At one point, a helicopter arrived which brought new attackers, but if you are quick enough, you can shoot down the chopper as well.
The graphics for John Wick were fairly good compared to some of the VR games I have played. Many VR games focus on hitting the right frame rate rather than looking realistic, it looks like Starbreeze has chosen to go for more realism, which makes sense because this game exists in film and the "real-world" as a movie so people know what the characters actually look like. It will be interesting to see what the final version will look like after its polished.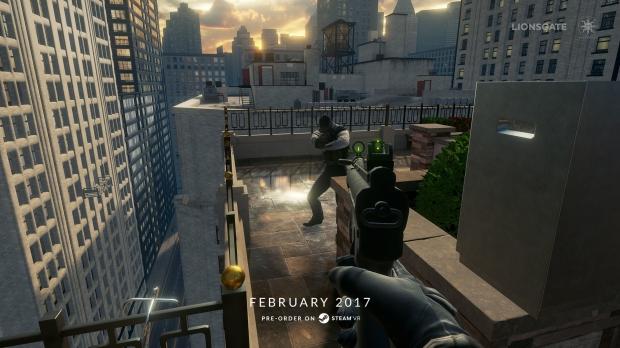 As for the movement in the game, I only got to play eight minutes of John Wick: Chronicles, but I believe that they definitely need to work on more movement mechanics because I felt fairly isolated in most of the scenarios I played. It felt very stationary and I would like to see them exploring more with movement mechanics.
I really felt like an action hero in the game, which is something that Starbreeze was aiming for. When I talked to them, they said that they want the players to step into the shoes of John Wick. And they did it. The game is highly immersive, full of action and you get into your character quickly.
The one thing I didn't like about the game is the fact that I couldn't die which lowered the excitement for me. No matter how many times the attackers shot me, I couldn't die. You only get your score at the end of the game, and you can compare it to the ones of previous players. But this is just a demo, and it still remains to be seen what the final product will look like when it comes out in February.
The John Wick: Chronicles is one of the best games VR games I have tried thus far and definitely the game that felt 'most real.'