On the first day of Reboot InfoGamer, the biggest waiting lines were in front of Starbreeze's booth where the company is showing John Wick Chronicles, their highly anticipated VR game. The game should come out in February, around the same time as the second John Wick movie which Keanu Reeves stars in.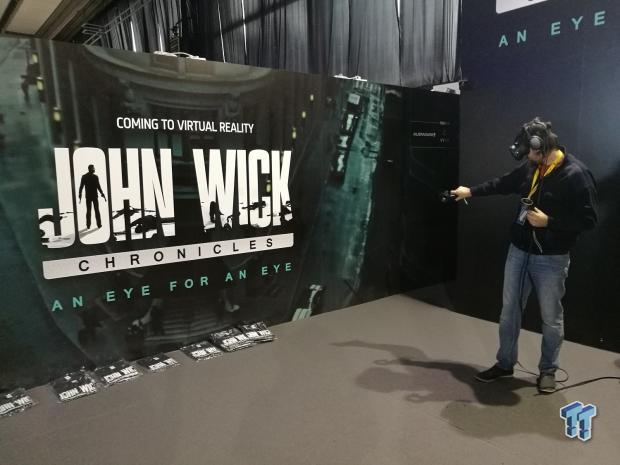 I talked to Almir Listo from Starbreeze who clarified that the in-game action in set in between the two John Wick movies. He noted that they are actively working with Lionsgate Studio on the game, and they are very happy with their cooperation, which resulted in the amazing game.
In the game, you jump into the shoes of John Wick and go through different missions full of gunfights. Listo highlighted that they wanted that each player 'becomes' John Wick while playing, so they paid special attention to the details.
"There's a situation in the game when you hold a gun in one hand and a grenade in the other. So, how are you going to trigger the grenade when both of your hands are full?", Listo asked me.
I replied that I would do it with my teeth. And I was right. This is just one detail that shows how Starbreeze really thought this through and wants the players to get into the character while playing.
Listo said that the John Wick Chronicles gameplay time won't be able to measure with classic games since virtual reality is still somewhat new, and they would rather build the game based on gamers feedback. Once the game is out, they will follow up with the player's reactions and based on that decide if they should embed new content.
As for VR headsets, Listo pointed out that they are developing the game on the HTC Vive, but they are also working on their own VR headset in cooperation with Acer. The project is called StarVR, and it should consist of two displays that have a combined total of 5120 x 1440 resolution. The field of view will be 210-degrees horizontal, which is approximately double the FOV compared to most other VR headsets.
This project should see the light of day in IMAX theaters, who is also working on this project. Their plan is to open the first test VR center in Los Angeles, and then spread it to other IMAX theaters.
During Reboot InfoGamer, I will have the opportunity to try the John Wick Chronicles and talk to the Starbreeze team in more depth, so let me know if you have any questions for them.