NVIDIA beat analyst expectations with their recent earnings expectations, smashing the market with VR, consumer graphics cards, cloud services, driverless cars, deep learning, and more. This led NVIDIA to post its largest sales growth in six years, quite the result - and 24 hours later, NVIDIA stock is up by a huge 29.7% to $87.92 - a record high for the company.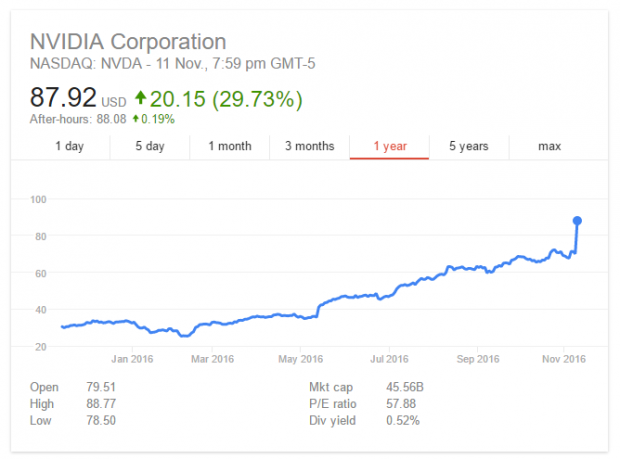 Looking back at NVIDIA's stock market performance for the last 12 months, we can see that the build up after the May reveal of the GeForce GTX 1080 and GTX 1070 just didn't stop - NVIDIA stock was sitting at around $35 per share at the time of the GTX 10 series unveiling, to $41 per share on May 13 - and it didn't stop there. But the massive increase overnight of 29% is a massive deal, and I'm sure NVIDIA is popping champagne bottles open everywhere.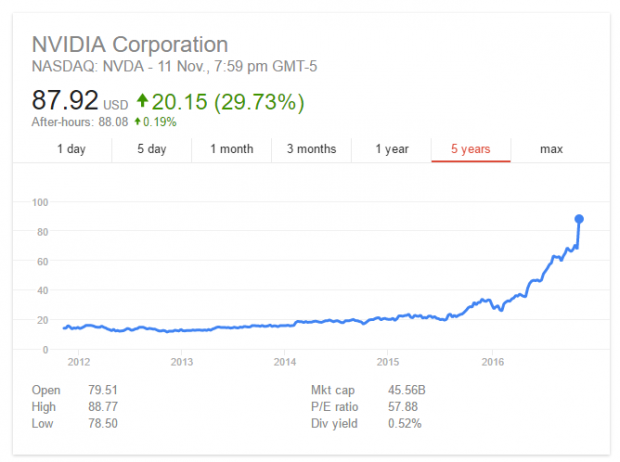 The 5-year graph is very interesting, as you can see that NVIDIA has been killing it throughout 2016 - at an unstoppable rate, too.