NASA astronaut Shane Kimbrough and cosmonauts Sergey Ryzhikov and Andrey Borisenko of the Russian space agency Roscosmos have arrived at the International Space Station after a two-day trip.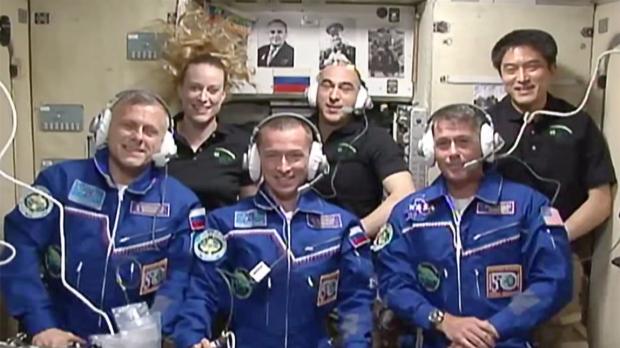 Their Soyuz MS-02 spacecraft docked with the Station's Poisk module at 5:52 AM EDT. When hatches between the Soyuz and Space Station opened at 8:20 AM EDT, the three crew members joined Expedition 49 Commander Anatoly Ivanishin of Roscosmos and Flight Engineers Kate Rubins of NASA and Takuya Onishi of the Japan Aerospace Exploration Agency, who have been aboard ISS since July. The International Space Station now has six occupants.
Kimbrough, Ryzhikov, and Borisenko will spend a little more than four months aboard the Space Station, and their return to Earth is scheduled for late February. The crew members will contribute to more than 250 research experiments ongoing aboard the space station, in diverse fields such as biology, Earth Science, human research, physical sciences and technology development.
The initial launch was planned for September 23rd, but because of technical difficulties with the Soyuz MS-02 spacecraft, which marked its 131st flight with this launch, it was postponed to October 19th.