Over the last couple of weeks I've been complaining that my 1Gbps network connection to my NAS was too slow, as I was only transferring to and from my Thecus and QNAP NAS at 100MB/sec - well, 5Gbps networking is on the way, promising 500MB/sec.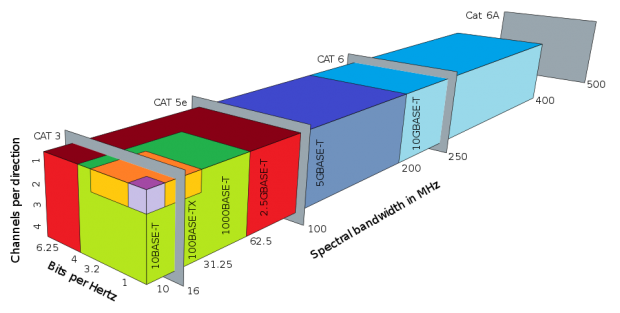 The new 5Gbps Ethernet standard has been finalized, with IEEE 802.3bz ready for the job - soon, at least. We've been sitting at a wall for a while now on gigabit ethernet, because 10GbE requires much more expensive cables in the form of fiber optic, or more expensive Cat6a or Cat7 cabling. It's not backwards compatible with previous standards, as well as routers, switches, and network cards for 10GbE networking being much more expensive than the normal GbE products.
This is where the new 2.5GBASE-T and 5GBASE-T standards step up, both "specifically created to use 10GbE signaling, but at a rate that would be compatible with existing runs of Cat5e and Cat6 cable out to 100 meters. The 2.5Gbps standard can run on Cat5e out to 100 meters, while the 5Gbps standard requires Cat6 cable to run 100 meters. Both should be far easier - and cheaper - to bring to market than current 10GbE technologies", reports ExtremeTech.
Now we need to see AMD and Intel bringing out chipsets in the near future with 2.5/5GBASE-T compatibility, so that our SSDs that push 500MB/sec can now do it over our networks. Oh boy.