LG has made its new V20 smartphone official, with their latest handset being a successor to the very interesting V10 from 2015. The original V10 rolled out with a dual-screen feature that had LG using a strip of the LCD at the top as notifications for quick glances, but the new V20 boasts its own new design, an improved camera, and audiophile-grade music playback.
The new V20 smartphone has a 5.7-inch QHD (2560x1440) IPS-based display, with a smaller second screen at the top - just like its predecessor, which is used for app shortcuts, notifications, and other uses like a personal signature.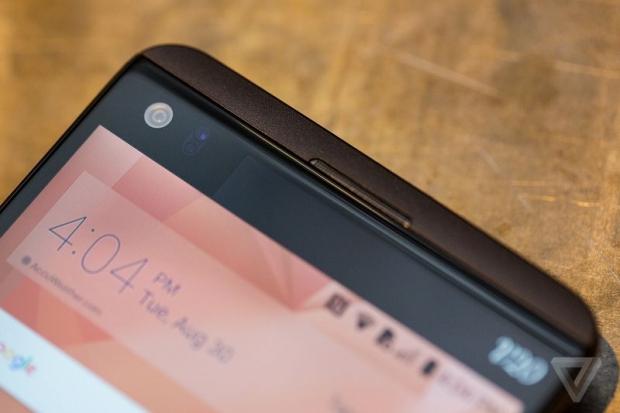 The second screen might not sound like something you'd use, but since it provides a separate space for your notifications, it actually would come in handy. LG adds that the second screen is now brighter, and has improved contrast over its predecessor.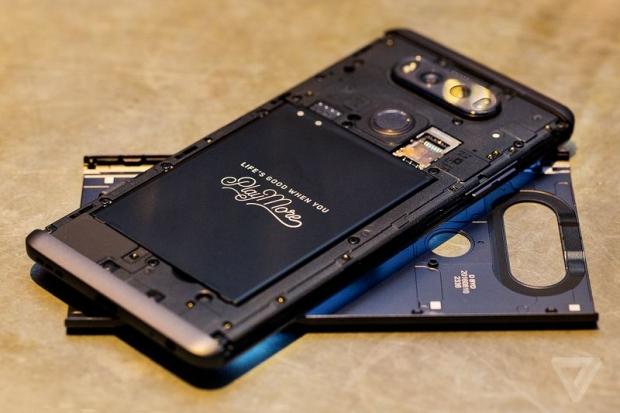 Inside, the V20 features a Qualcomm Snapdragon 820 processor, 4GB of RAM and 64GB of storage - bringing it right into Galaxy Note 7 territory. The V20 also supports microSD cards up to a huge 2TB, and has a replaceable (!!!) 3200mAh battery. LG includes Quick Charge 3.0 capabilities with the V20, so you can get your phone charged up super quick through the included USB-C port. The replaceable battery ensures you'll have 24/7 battery with less than a minute of downtime.
The big deal that LG is pushing with its V20 is that it features 32-bit quad DC, which is a big deal for audiophiles that was perfect headphone and speaker playback. LG has had help from Bang & Olufson, who tuned playback perfromance with 72-stage volume control, and support for all of the main lossless music formats, including Apple Lossless. The microphone has also been tuned, with LG saying the V20 handles recording audio from loud rock concerts, right down to you giving voice memos.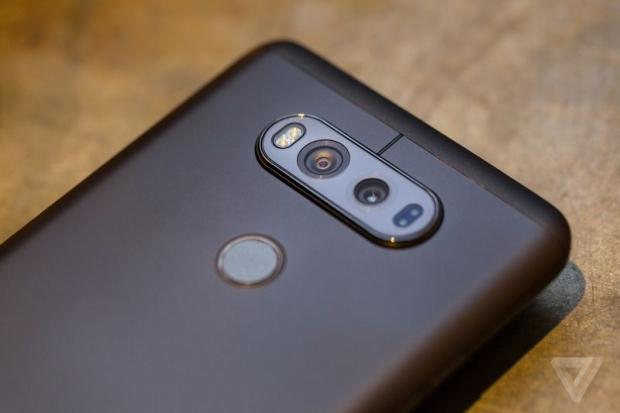 LG has removed the dual front-facing cameras from the V10, replacing it with a 5-megapixel f/1.9 wide angle front-facing camera. On the back, LG has opted to use a dual-camera system led by a "standard angle" 16MP sensor with f/1.8 aperture with OIS (optical image stabilization), and a wider 8MP camera with an aperture of f/2.8.
LG's V20 smartphone doesn't have the rubbery material on the back like the V10 did, and instead it has much smoother aluminum with a fingerprint sensor and home button where your finger will naturally sit, reports The Verge. LG has also removed the stainless steel side rails, and the top and bottom parts of the phone with silicon polycarbonate, with LG saying that the V20 can take 'everyday drops' thanks to the new silicon polycarbonate material.
You'd think Google's upcoming Nexus successors rumored to be called Pixel and Pixel XL, would be the first smartphones released with Android 7.0 running on them out of the box, but LG is the first with the V20. This means the V20 includes the new In Apps feature from Google, which is meant to help you "find content not only from built-in apps including contacts, emails, text messages and photos, but also from user-installed apps".
LG still has its custom skin on Android 7.0, which is unfortunate.
As for the price on the V20, LG didn't say a word - so we should expect it to be priced at around $700, which is where the V10 sits. LG will debut the V20 in Korea later this month in dark grey, silver, and pink and into the US soon.