Final Fantasy 15 isn't completely open-world
Final Fantasy 15 won't be all open-world, but that's a good thing.

Published Sat, Aug 27 2016 10:19 PM CDT
|
Updated Tue, Nov 3 2020 11:58 AM CST
Final Fantasy 15 isn't just pure open-world; it offers a healthy mix of open and linear-based environments to ensure gamers experience both something new and something familiar.
In a recent interview with Famitsu Final Fantasy 15 game director Hajime Tabata revealed that the game's main campaign consists of 15 chapters, and that half of them will be set in the open environments whereas the other half is linear-based.
"The entire game structure for Final Fantasy XV consists of both open-world and linear parts. The first half keeps going as an open-world, but the story in the second half's is led by a linear path. That way, you won't get bored of an open-world as the rest of the game tightens, so we made it in a way that you'll also get to advance through it as you have in conventional Final Fantasy games," Tabata confirmed.
A mix of linear and open-world gameplay is a great idea, especially since too much freedom can be a bad thing in games (like in Dragon Age: Inquisition, for example). Tabata knows that traditional Final Fantasy players will jump into FF15, so he felt the need to cater to both new and old gamers. The real question is what the dividing line is: are we stuck with linear gameplay once we reach a certain point in the story? And if so, are we stuck in this linear path, or can we fast-travel to the open map at any time? Square Enix has to do this just right to ensure a smooth transition.
But what about play time? Does the game still last for 200 hours?
Since Final Fantasy 15 has gone through some pretty hefty alterations over the past few months, and is now getting another delay to ensure optimum performance, gamers were concerned about some content getting shaved off. However game director also reiterated that the RPG's main campaign still takes about 40-50 hours to beat.
"If you play through the first half and only the main route of the second half, I believe the estimated play-time sits at around 40 to 50 hours," Tabata concluded.
If you want to complete the game 100% you'll need to spend a whopping 200 hours on the game. Seasoned Final Fantasy vets know that this is par for the course, and I myself have spent some 250+ hours on Final Fantasy X in my time.
Final Fantasy 15 now launches on November 29 on PS4 and Xbox One.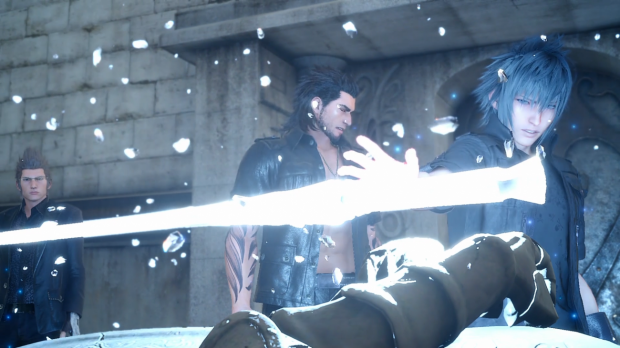 Related Tags