Sony hides No Man's Sky online play icon with a sticker
No Man's Sky limited edition boxes have a sticker covering up the online play icons, hinting multiplayer was yanked before launch.

Published Thu, Aug 11 2016 11:50 AM CDT
|
Updated Tue, Nov 3 2020 11:58 AM CST
No Man's Sky limited edition boxes have stickers covering online play icons, but Sony says it was just a simple mixup.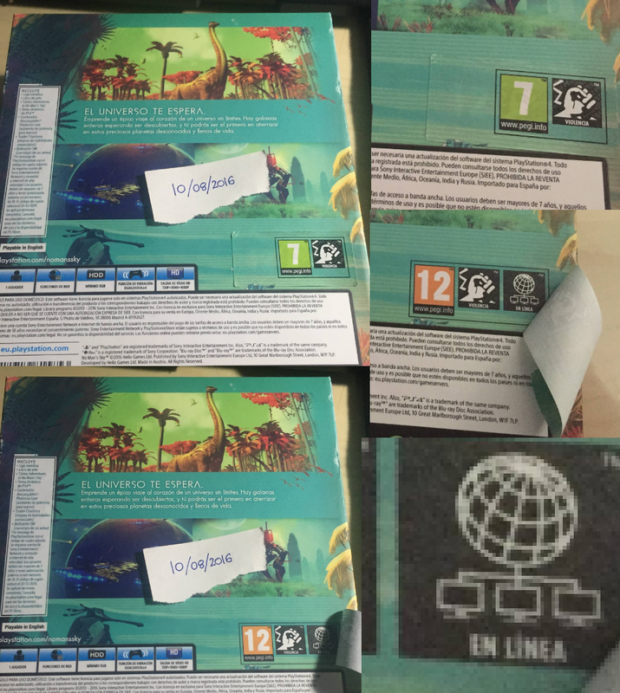 Does No Man's Sky have multiplayer? Hello Games' Sean Murray has said outright that it's possible for two players to meet and see each other, but it's not very likely. But recent events say otherwise: on launch day two players did the impossible by meeting each other, but they couldn't see each other. The devs haven't given any clear explanations on why the players couldn't see each other, and if that will be addressed.
Now it's been revealed that Sony has put stickers covering up online play icons on the back of No Man's Sky limited edition boxes. Sony says that this was just a simple mixup, but fans are thinking Sony and/or the devs yanked the light multiplayer interactions before launch because of difficulties:
"Incorrect descriptors were incorporated into the original No Man's Sky limited edition packaging. This was a production issue and was rectified using placement stickers," Sony said in an official statement.
Also remember that Sony doesn't require PlayStation Plus for No Man's Sky. Originally I thought that this indicated the game was so big that two players wouldn't ever really meet, but now I think that it doesn't require PS Plus simply because the game doesn't have any sort of multiplayer component at all, and players have been misled.
Sean Murray has responded to two players meeting each other, but didn't give any specifics on why they couldn't see each other.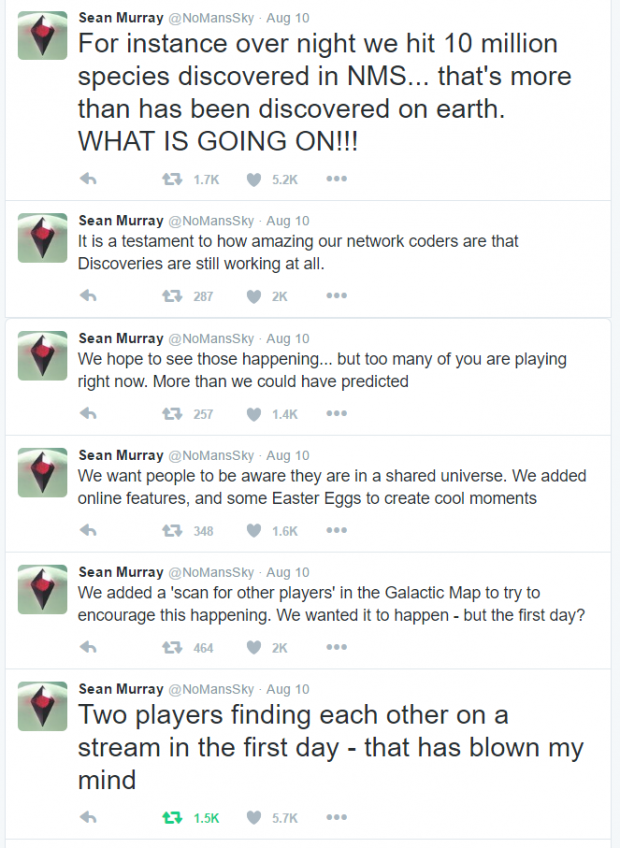 Of course there's much more to adding multiplayer in a game like this and it's not as simple as flipping a switch. No Man's Sky players logged 10 million discoveries on their first day, so it's fair to say the servers are getting absolutely slammed.
Now remember if two players can see each other, they could technically play together and just follow one another across the universe, thereby facilitating a very real multiplayer element. Sure they wouldn't be able to interact with one another, but it'd still be co-op nonetheless.
If the servers are getting slammed with discoveries alone, it's fair to say that Hello Games and Sony would have a hard time upholding online multiplayer--even if it was incredibly rare. All in all it looks like No Man's Sky won't ever be able to sustain even the most basic co-op even when it has a one out of a million chance of happening.
As for the misleading comments, here's what Sean Murray told Stephen Colbert in an interview:
Sean Murray: "You don't see yourself. The only way you know what you look like is if someone else to see you."
Stephen Colbert: "Can you run into other people, other players?"
Sean Murray: "Yes, but the chances are very incredibly rare. Just because of the size of what we're building."
We're still digesting the incredibly massive meal that is No Man's Sky, so expect to see more feature length articles from us in the coming days. To see if No Man's Sky is right for you, check out our nifty FAQ guide.
Related Tags