Leading CS:GO skin trade site applies for gambling license
CSGO Lounge thinks a gambling license will save it from Valve's wrath, but the Counter-Strike skin trade is over.

Published Wed, Aug 3 2016 12:05 PM CDT
|
Updated Tue, Nov 3 2020 11:59 AM CST
Rather than shutting down and ceasing all gambling activity as per Valve's orders, a major CS:GO gambling site is applying for a legal gambling license.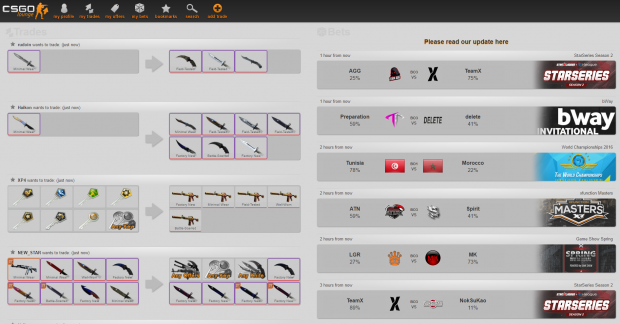 CSGO Lounge, one of the biggest players in the Counter-Strike GO skin trade, plans to apply for a legal gambling license so it can keep its lucrative business afloat. The site has put up an age gate to restrict betting to users 18 years or older, and you won't be able to bet unless eSports gambling is legal in your country.
"We have decided to acquire a license to legally operate in most of the countries and be able to accept the esports bets by our community, as if it would be real money," reads an update on CSGO Lounge's site.
The site admins go on to say they received one of the infamous cease and desists letters sent out by Valve, and argues that the website doesn't offer any transactions with real money--just skins.
"After all the recent events around virtual items and the official letter by Valve, which we have received as well, we were left out alone without any additional information or communication by Valve on this matter. We had to make a decision on how to proceed with Lounges as community place and entertainment service. The situation is highly confusing - we are not offering games of luck, we are not offering any transactions with real money or equivalents."
"Starting from Monday, 1st August 2016, we will start limiting the access to the betting functionality for users visiting us from countries and regions, where online esports betting is forbidden. We will add additional registration and verification process and we require you to comply with our new Terms of Service if you want to keep using our service. We also remind that our service is only for users who are at least 18 years old."
"Users from the following countries and regions will not be able to use the betting feature, but still be able to withdraw their previous winnings and deposits: Belgium, France, French Guiana, Guernsey, Gibraltar, Ireland, Isle of Man, Jersey, Martinique, French Polynesia, Reunion, Mayotte, Turkey, Spain, Scotland, Israel, United Kingdom and United States."
These regulations sound great on paper, but there's still one huge problem: the site is still using Steam accounts to make money from actual Steam users. Even if CSGO Lounge gets a gambling license and follows country-wide gambling laws, Valve will likely still shut them down forcibly with legal action.
So if you use CSGO Lounge, make sure to grab your winnings and move on. The Counter-Strike skin trade is being shut down for good.
Related Tags