Siggraph 2016 - AMD has announced its new Radeon Pro SSG graphics card, with it being one of the first under the new Radeon Pro branding, with AMD rebranding its FirePro graphics card range.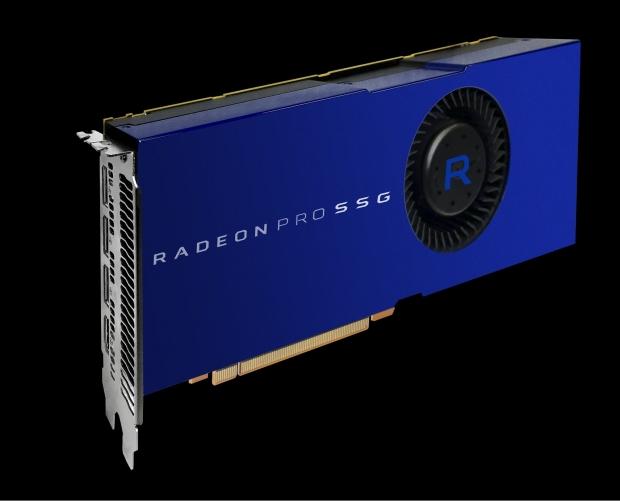 AMD's new Radeon Pro SSG is a super unique new way of professional graphics, as it has flash memory attached to the graphics card, which can see professional graphics solutions scale far beyond the 32GB limit we're at now. Instead of having a 32GB frame buffer, which might sound like a lot to gamers, it gets used very quickly with massive professional workloads.
Radeon Pro SSG uses flash memory that can scale into the terabytes, which means we'll see professional graphics cards with 1TB or 2TB of memory available. The flash memory has direct communication with the GPU but doesn't work in the way of High Bandwidth Memory (HBM) which is physically on the Interposer, with the GPU. Performance wise, the flash memory on Radeon Pro SSG can handle 8K video at 96FPS compared to the previous high-end FirePro graphics card that was only capable of 8K at 17FPS - a huge 5.6x increase in performance.
Where the Radeon Pro SSG comes into its own thing, is pre-visualization on movie sets, where directors can have near-final visual effects running in real-time thanks to the Radeon Pro SSG. Normally studios will have to water down the super high-end assets that visual effects studios make so that they can provide a real-time look at the visual effects on the set, but with Radeon Pro SSG they can do it in real-time at a much higher level of detail.
With the company positioning itself as a commanding force in rendering, the new Radeon RX SSG is going to be quite the deal in the visual effects industry, and especially in Hollywood. Personally, it's great to see AMD thinking way outside of the box here with Radeon Pro SSG - a workstation card that has someone like me, a PC and technology enthusiast, beyond excited.
Will we see consumer graphics cards with M.2-based SSDs in the future? What does this spell for HBM2 in the future? We will find out soon enough.