AMD impressed the world with its Radeon RX 480, priced at $199/$239 for its 4GB/8GB versions - and still coming out on top when it comes to performance for your dollar against NVIDIA's new GeForce GTX 1060. Well, the AIB partner cards are now rolling out with the devilish PowerColor Red Devil RX 480 8GB announced.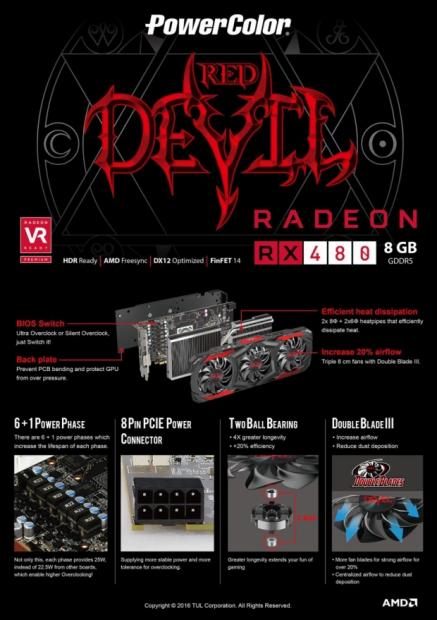 PowerColor has priced its new Red Devil RX 480 8GB at $269 in the US, with its GPU clocked at up to 1.33GHz and the 8GB of GDDR5 clocked at 2GHz. There's a single 8-pin PCIe power connector, with 6+1-phase power with each phase providing 25W of power compared to 22.5W on other boards.
PowerColor has deployed its latest fan technology dubbed Double Blase III, which "increases airflows and prevents dust deposition on the fans". Double Blase III is made with triple 80mm 2-ball bearing fans, and 2pcs of 8mm and another 2pcs of 6mm nickel-plated heat pipe for the best heat dissipation.
There's also a backplate on the Red Devil RX 480 8GB, with the PCB locked in a thermal module that uses spring screws to pin through the rivets. PowerColor has also used a copper-based thermal module that holds the GPU, which will not only protect the GPU, but it will balance the pressure of the whole board.
I've reached out to PowerColor to see if I can get my hands-on one of these cards, as they look mean as hell.