The leaks continue on NVIDIA's GeForce GTX 1060, which is reportedly set for an official announcement for July 7. The latest leak is from a 3DMark performance result, which gives us a taste of what to expect from NVIDIA's upcoming GP106-based mid-range video card. NVIDIA will want to hit AMD where it hurts, which is with their new Radeon RX 480.
NVIDIA's GeForce GTX 1060 will reportedly feature 1280 CUDA cores, 80 TMUs, and 6GB of GDDR5 RAM at 8GHz on a 192-bit memory bus. As for the nitty gritty, it'll feature the GP106 GPU which is a different ASIC than the GP104 used on the GeForce GTX 1080 and GeForce GTX 1070 - and for clock speeds, we're set to see 1506MHz on the Base clock, while we have 1708MHz on Boost.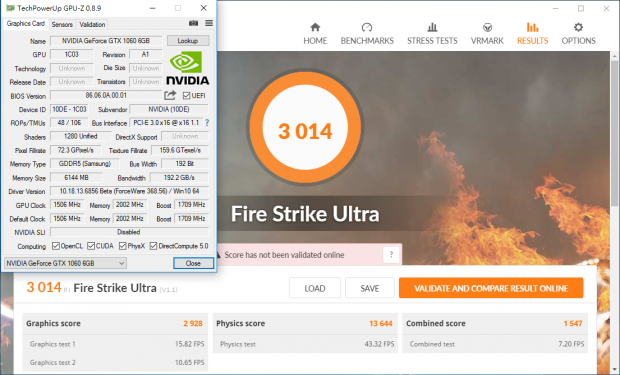 Now what about that 3DMark performance? XFastest has leaked out some results of the GTX 1060, with it scoring 3014 in 3DMark FireStrike Ultra (the 4K run of the benchmark) which is higher than the 2712 that the AMD Radeon RX 480 scored in our benchmarks of the card. 1080p performance is just as good, beating out the AMD Radeon RX 480 once again - with 11,225 on the GTX 1060, while the Radeon RX 480 manages 10,600.
NVIDIA has a great card on its hands from the leaked benchmarks, but the biggest part of this is going to be the price. AMD have nailed down the $199-$239 market with the 4GB and 8GB variants of the Radeon RX 480 - so NVIDIA is going to need to hit $249 in order to chomp away at AMD's sales on the RX 480. But there's one huge thing that AMD now has in its favor; multi-GPU support on the Radeon RX 480.
AMD's new Radeon RX 480 can be used in up to 4-way CrossFire setups, while NVIDIA's upcoming GeForce GTX 1060 doesn't even have an SLI connector, meaning there's no multi-GPU support on NVIDIA's upcoming mid-range card. That's going to be a marketing opportunity for AMD, that's for sure.