Four-part Mass Effect book series links original trilogy to Andromeda
Gamers are getting a four-part novel series set between the original Mass Effect trilogy and ME: Andromeda.

Published Sat, Jun 25 2016 8:14 PM CDT
|
Updated Tue, Nov 3 2020 11:59 AM CST
Titan Books is publishing a four-part Mass Effect novel series that sheds light on the mysterious events between Commander Shepard's original adventures and the new Mass Effect: Andromeda.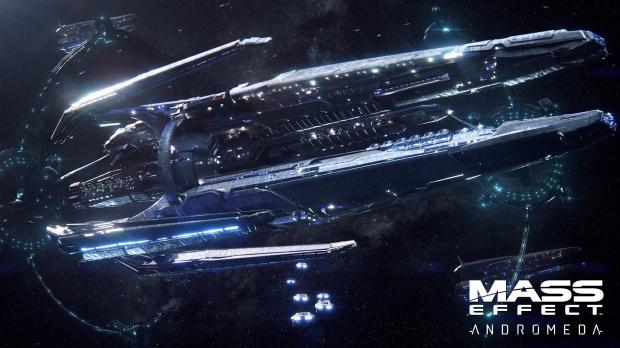 BioWare has made it clear that Mass Effect: Andromeda isn't directly connected to the original trilogy, despite being set in the same universe. The sequel is a brand new game set after the original trilogy, complete with its own new cast of characters, a new protagonist named Ryder, and a completely overhauled tone. But that doesn't mean there's not a ton of events to explore in between the two games--and as tradition dictates, this story will be told in book form. Renowned sci-fi writer N. K. Jemisin will pen the four-part Mass Effect: Andromeda novels, with the first one, ME: Andromeda - Initiative, releasing this August.
"Titan will publish four unmissable Mass Effect novels, sure to appeal to the game's huge number of fans. The novels will act as prequel and sequels to the events in the games and will become part of the overarching Mass Effect saga. They will focus on key characters and answer the many questions fans have been asking," reads the announcement from Titan Books.
"With a new game - Mass Effect: Andromeda - set for release in 2016, the launch of a new series of canonical novels is timely. While earlier Mass Effect games focused on the defense of the Milky Way galaxy, with humans pitted against a race of ruthless mechanical invaders known as the Reapers, the new story will take the game in a dramatic new direction and is set in a new region of space, with a new and deadly enemy."
Before you get too excited and think ME: Andromeda actually wasn't delayed to 2017, this PDF file reveals info from the London Book Fair held in April 2016 before BioWare made the delay official.
ME: Andromeda book 1-3 will release in August 2016, March 2017, and September 2017 respectively. The fourth and final chapter will be written by Mass Effect: Andromeda's own creative director Mac Walters for a release in 2018. It's also worth noting that Titan Books will publish book series on Resident Evil 7, Dishonored, and Deus Ex: Mankind Divided.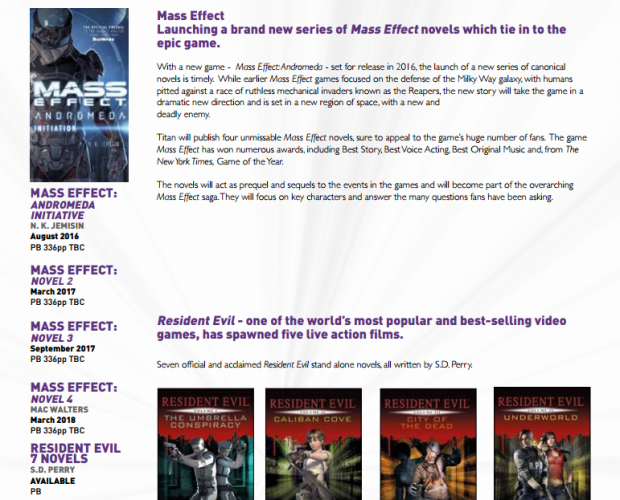 Related Tags