Raw Data was one of the first Vive games I played, and was instrumental in my love affair for HTC and Valve's awesome virtual reality system. Unfortunately, I didn't get a chance to try the latest build at E3. Fortunately for all of us, developer Survios sent over some short clips to rub in how much fun the game is.
In Raw Data, you're tasked with infiltrating shady manufacturer Eden Corp, stealing their data, and mowing down hordes of evil robot minions in wave-based FPS combat. It's also playable with a friend in co-op.
Survios describes Raw Data as an "Active VR Multiplayer Sci-Fi Combat" game and yea, that's pretty accurate. From dual-wielding blasters to striking down hordes of robots with futuristic Katanas, Raw Data is a blast, but the developers have also programmed in a ton of [physical movement that just feels great to pull off. Slashing, shooting, deflecting, ducking, dodging, and throwing make you feel like a badass.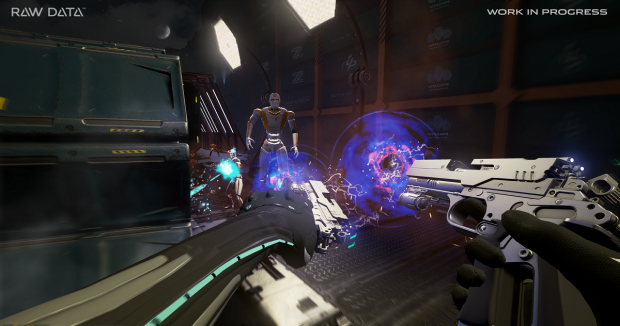 Raw Data launches in Steam Early Access on July 14th, and the developers are also working on a version for Oculus Touch.