E3 2016 - Games like The Brookhaven Experiment proved that the classic shooting gallery (think games like House of the Dead) is back and better than ever in virtual reality. Croteam is tapping into that with Serious Sam VR: The Last Hope. Get ready to shoot millions of bullets into thousands of demons when it launches to Early Access this summer.
In true, blisteringly fast FPS style, Serious Sam has always thrown mobs of fast monsters at you, forcing you to rely on reflexes and skill to survive. Much of that involved a constant forward momentum, but that's not exactly something we can do comfortably in VR yet. That's why Croteam has adopted the shooting gallery angle, which will put you in a standing position, using the Oculus Touch or HTC Vive motion controllers to fend off wave after wave of bad guys, likely with a narrative tying it all together.
And gore. Lots and lots of bloody gore.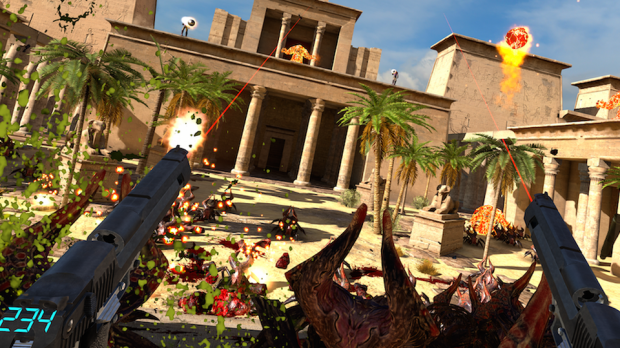 I am concerned, however, that with the Oculus Touch's reliance on mostly a 180-degree experience, that we won't get that full, 360-degree immersion that we have in other shooting gallery games. It could still be a blast, and certainly looks like one of my next guilty pleasure games. I'll be testing it out on the E3 show floor, so stay tuned for impressions this week right here at TweakTown.