Computex 2016 - ASUS has announced it's new ZenFone 3 Deluxe flagship model at the Zenvolution press event in Taipei, along with two other offerings.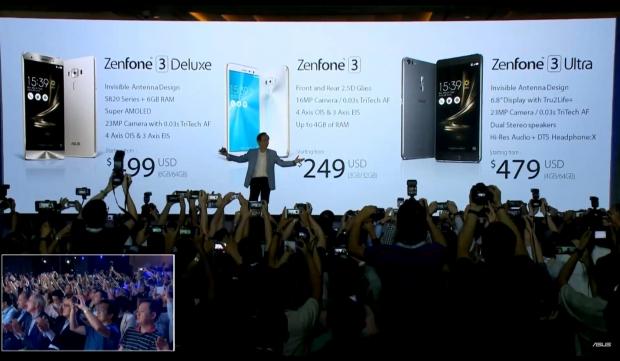 ASUS's new ZenFone 3 Deluxe is a pretty beefy flagship smartphone, sporting up to 6GB of onboard RAM system memory alongside Qualcomm's new powerful Snapdragon 820 processor. The ZenFone 3 Deluxe starts at $499, and features a 5.7-inch 1080p Super AMOLED screen wrapped in an all-metal unibody design. Qualcomm Quick Charge 3.0 over USB Type-C ensures the ZenFone 3's 3,000mAh battery charges super quickly, and the smartphone has 64GB onboard storage that's expandable to up to 256GB.
The other mothers include the $249 ZenFone 3, which packs a 5.5-inch 1080p Super IPS+LCD display, 3GB of RAM, 32GB of storage, and a Snapdragon 625 processor; and the $479 ZenFone 3 Ultra, a bigger handset with a 6.8-inch 1080p screen, 4GB of RAM, Snapdragon 652 processor, and a massive 4,600mAh battery that supports quick-charging over USB Type-C. The ZenFone 3 Ultra also sports "4K TV grade image processing", and two of ASUS's new five-magnet stereo speakers for cinematic 3D surround sound over DTS Headphone: X and virtual 7.1 surround. If that wasn't enough, the ZenFone 3 Ultra's 4,6000mAh battery supports PowerBank mode that can share power and "jumpstart other devices".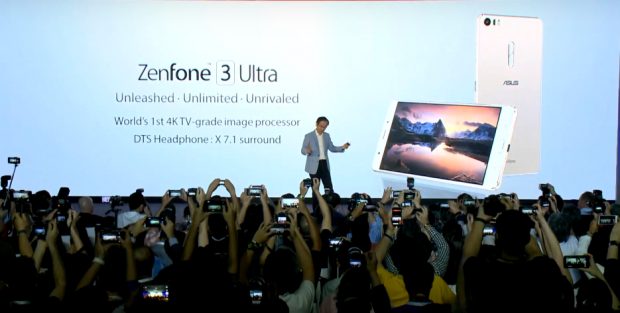 Check below for full specs and pricing details:
Zenfone 3
Price: $249

5.5 inch, 1920 x 1080 pixel Super IPS+ LCD display

Qualcomm Snapdragon 625 processor

Up to 3GB of RAM

Up to 32GB of storage

16MP rear camera with Sony IMX298 sensor

802.11ac Wi-Fi

Bluetooth 4.2

Up to Cat 6 LTE

3,000 mAh battery

USB 2.0 Type-C connector

Gold, blue, black, or white color options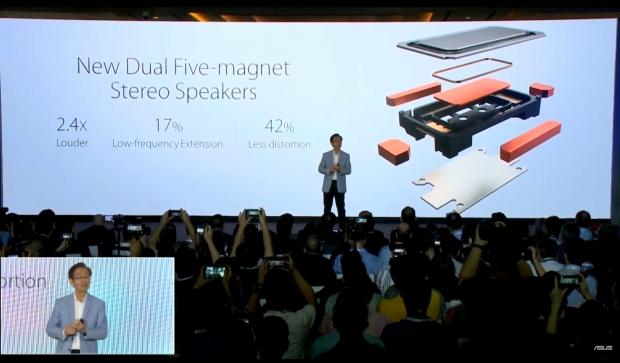 ZenFone 3 Deluxe
Price: $499

5.7 inch, 1920 x 1080 pixel Super AMOLED display

Qualcomm Snapdragon 820 processor

Up to 6GB of RAM

Up to 256GB of storage

23MP rear camera with Sony IMX318 sensor

802.11ac Wi-Fi

Bluetooth 4.2

Up to Cat 13 LTE

3,000 mAH battery with Qualcomm Quick Charge 3.0

USB 3.0 Type-C connector

Gold, silver, and grey color options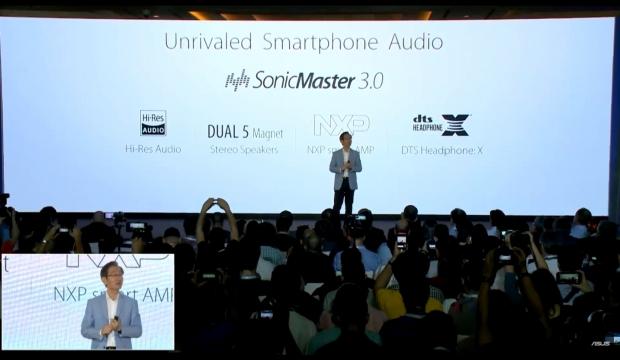 ZenFone 3 Ultra
Price: $479

6.8 inch, 1920 x 1080 pixel IPS LCD display

Qualcomm Snapdragon 652 processor

Up to 4GB of RAM

Up to 128GB of storage

23MP rear camera with Sony IMX318 sensor

802.11ac Wi-Fi

Bluetooth 4.2

Up to Cat 6 LTE

4,600 mAH battery with Quick Charge 3.0

USB 3.0 Type-C connector

Gray, silver, and pink color options