UPDATE: Sony has confirmed that a shipment of Uncharted 4 games were stolen, and that all early copies in circulation are a result of the theft. "We can confirm that unfortunately some contents from a lorry transporting a variety of video game and DVD titles, including a quantity of the much anticipated Uncharted 4: A Thief's End, was stolen in the UK, during a violent assault," Sony told MCV.
"To be clear, we have yet to ship any stock of Uncharted 4: A Thief's End to retail and so any suggestion that UK retailers have broken the official street date is not correct."
Original story as follows.
Multiple UK retailers are selling Uncharted 4 copies ahead of the game's May 10 release date, leading to spoilers and performance evaluations.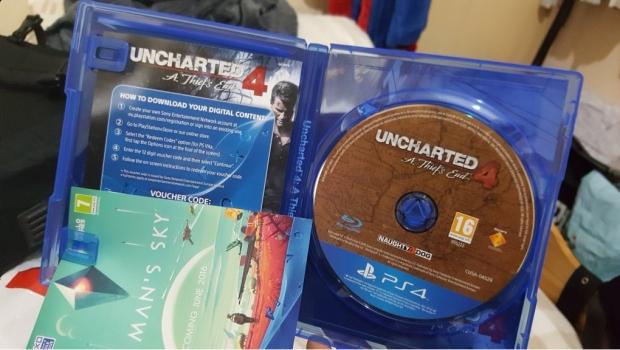 Uncharted 4 was originally due to release yesterday, but Naughty Dog delayed the game to May 10 to allow "extra manufacturing time" for a simultaneous global release. Unfortunately, some retailers like UK's CeX and Amazon didn't get the memo and have broken the game's street date by selling early copies to buyers and pre-orderers.
Now that Uncharted 4 copies are out in the wild, the inevitable flood of spoilers and scalped eBay listings have appeared. Despite the spoilers, the early copies allow users to share how Uncharted 4 performs on the PS4. "Singleplayer is so far running fine", an early buyer told Videogamer, adding that Uncharted 4's frame rate is pretty steady. "Uncharted 4 may have a few frame drops but not so noticeable." Even during intense graphical load, the FPS drops aren't game-breaking: "during heavy firefight it wasn't too bad with framerates."
Sony has been quick to take down Uncharted 4 vids on YouTube, and the eBay listings have been removed too. Although Sony's doing a great job in stemming the tide, there's not much they can do about the copies already released, so be sure to watch out for spoilers.
As Naughty Dog hasn't fired up the multiplayer servers yet, the early copies of Uncharted 4 are singleplayer-only. We're not sure if the game's day one patch is live for early copies (or if it even has a day one patch), so actual release date gameplay could be different than early pre-release.
Naughty Dog's last Uncharted game, Uncharted 4: A Thief's End, is slated to release on May 10 worldwide exclusively for the PlayStation 4.