Netflix catalogue has shrunk 31 percent in last two years
Netflix licensed content declines majorly in last two years as company focuses on original programming.
Published Fri, Mar 25 2016 4:35 PM CDT
|
Updated Tue, Nov 3 2020 12:00 PM CST
In January 2014, the Netflix catalogue boasted 6,494 movies and 1,609 TV shows. As of March 2016, it's dropped to 4,335 movies and 1,197 TV shows -- a 31.7 percent drop in a little over two years.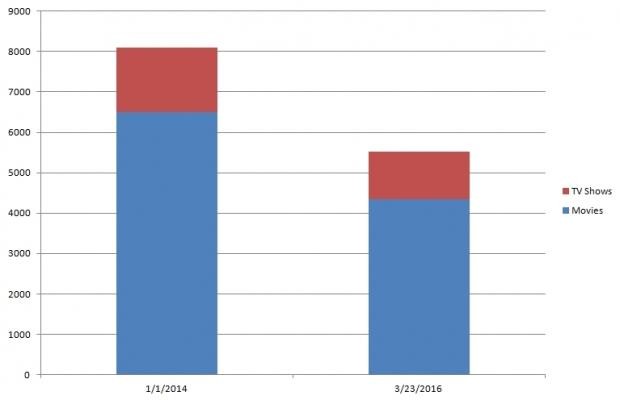 The company decided recently to sign deals with global rights only, which no doubt has increased its efficiency too, but with a significant impact on the amount of content it has available.
Some speculate the decline is also due to increased rights pricing caused by added competition from services like Amazon Prime. Whether this is true or not, Netflix chief content officer Ted Sarandos said last May that original programming -- like House of Cards -- "has been more efficient dollar for dollar" than licensed content and that "our appetite has only grown... we're moving (spending) from efficient to super-efficient."
Given that, it's not unreasonable to think Netflix may want to host original content only within a few years or more, remaking itself from a cable alternative into a modern TV network, and leaving its old model to other companies. However, Sarandos has noted he highly values deals with renowned companies like Disney, so a future with original programming and licensed content from giants like Disney only is perhaps more likely.
Related Tags