SEGA and Creative Assembly are going to delay the launch of Total War: Warhammer for a month longer than they originally intended. It'll now be launching on May 24th 2016 instead of the earlier April 28th release date.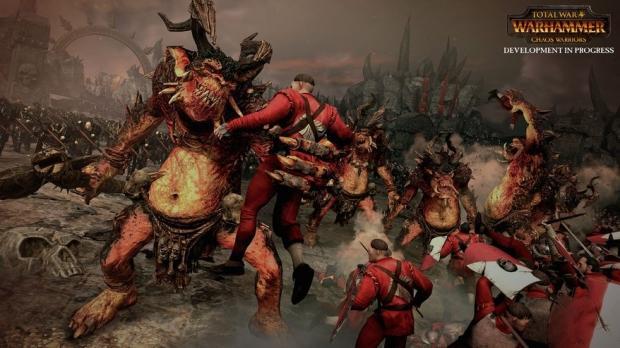 The developers are very excited about the game and want us to be able to get the most out the game. Namely they want it to be as polished as possible before they release it, hoping to avoid the pitfalls that some recent releases have suffered. "This could be the best Total War game we've ever made. We don't want to rush it," said the creative director, Mike Simpson.
This is the first foray into high fantasy for Total War, with a lot of excitement surrounding it. That said, because it's a PC only game, and previous Total War games have had some performance issues, they're looking at making sure that it's optimized on a variety of hardware. Specifically, they want us PC gamers to have a chance to enjoy it at 60FPS in even the most massive of battles at the highest of settings.
With that they've released the recommended PC specifications for a variety of different graphical situations, making it perfectly clear what you can expect depending on what you have. They certainly do want you to have the best experience possible.
PC Recommended Specifications
[Expected around 25-35 FPS on campaign map and in a 1v1, 20 units vs 20 units battle, default graphics preset set to "Low"]
Operating System: Windows 7 64Bit

Processor: Intel Core 2 Duo 3.0Ghz

RAM: 3GB

Hard Drive: 35 GB

Video Card: (DirectX 11) AMD Radeon HD 5770 1024MB | NVIDIA GTS 450 1024MB | Intel HD4000 @720P

PC integrated graphics chipsets require 4GB RAM, e.g. Intel HD series
PC Recommended Specifications
[Expected around 45-55 FPS on campaign map and in a 1v1, 20 units vs 20 units battle, default graphics preset set to "High"]
Operating System: Windows 7/8.1/10 64Bit

Processor: Intel Core i5-4570 3.20GHz

RAM: 8 GB

Hard Drive: 35 GB

Video Card: (DirectX 11) AMD Radeon R9 270X 2048MB | NVIDIA GeForce GTX 760 2048MB@1080P
PC Recommended Specifications
[Expected 60 FPS+ on campaign map and in a 1v1, 20 units vs 20 units battle, default graphics preset set to "Ultra"]
Operating System: Windows 7/8.1/10 64Bit

Processor: Intel® Core™ i7-4790K 4.0 GHz

RAM: 8 GB

Hard Drive: 35 GB

Video Card: (DirectX 11) AMD Fury X or NVIDIA GTX 980 @1080P