With the Oculus Rift pre-orders kicking off, and HTC starting their Vive pre-orders in the last 24 hours (and selling over 15,000 headsets in less than 10 minutes) - Microsoft is still around with its HoloLens, if you forgot. Microsoft is offering pre-orders on the HoloLens Development Edition for $3000, with pre-orders taking place today - with a launch date of March 30.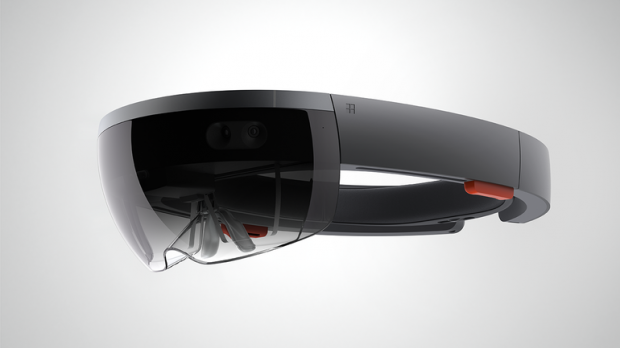 Reddit user 'Shooob' posted some details from a now pulled article on Fortune, with information on the launch titles for HoloLens. The pulled post had quotes from Microsoft's Corporate Vice President, Kudo Tsunoda, and according to 'Shooob': Fragments, Young Conker and RoboRaid will be included with HoloLens - where they will "showcase the gaming capabilities that augmented reality opens up". Additionally, Shooob says: "Early purchasers of the new hardware will include game developers, and Microsoft is looking to create an ecosystem of software that will help it sell the consumer version of HoloLens down the line".
As for the games, Fragments "puts gamers in the middle of an augmented reality crime drama that unfolds in their living room. Players are able to investigate clues and solve crimes by interacting with characters that sit on their couch and talk directly to them". The explanation on Fragments continues: "As a holographic platform highlight, Fragments demonstrates how creators can build characters and storylines that drive a higher level of emotional engagement and attachment than you can with any other medium. Fragments blends the line between the digital world and the real-world more than any other experience we built. When your living room has been used as the set for a story, it generates memories for you of what digitally happened in your space like it was real. It is an experience that bridges the uncanny valley of your mind and delivers a new form of storytelling like never before".
Moving onto Young Conker, which "takes the popular squirrel created by Microsoft-owned developer Rare off platform gaming and into the real-world. Developed by Asobo Studios (which also worked with Microsoft on Fragments), the game changes based on what environment the gamer is playing in". Tsunoda continued explaining: "It is amazing how different the play experience feels based on playing the game in your living room versus your kitchen or your bedroom. Even starting the game from a different position in a single room creates an entirely new gameplay dynamic".
RoboRaid is the last launch title explained in the article, with Shooob explaining: "which was previously playable at E3 last year as Project X-Ray. I was able to play this game last June, along with Minecraft: HoloLens Edition, and they really got me excited about the potential of augmented reality gaming. RoboRaid is a first-person shooter that has invading aliens literally ripping through the walls of the room you're in. You use the Clicker to shoot at the waves of alien robots as they fly into the room shooting lasers. RoboRaid uses spatial sound as a gameplay feature, alerting gamers which direction to turn when they hear the wall crumbling. Tsunoda wrote that this game highlights how to use gaze, gesture, and voice input in a fast and frenetic gameplay experience. RoboRaid was created by a team of eight people over the course of 12 weeks at Microsoft".
HoloLens launches on March 30 with a pre-order price of $3000 for the Development Edition headset.