Even cheap smartphones are getting super powerful GPU's in the future
Imagination Technologies wants to make lower-end phones more capable with more powerful GPU's, starting with this next generation.
Published Mon, Feb 22 2016 12:03 PM CST
|
Updated Tue, Nov 3 2020 12:01 PM CST
Mobile GPU's and SoC's are getting quite powerful these days, able to gently sip power and provide a graphical experience that's more than acceptable for smaller, and even some larger, screens. High-end mobile devices have always enjoyed great (relative) performance, but now Imagination Technologies wants to make powerful GPU's accessible even to lower-end hardware.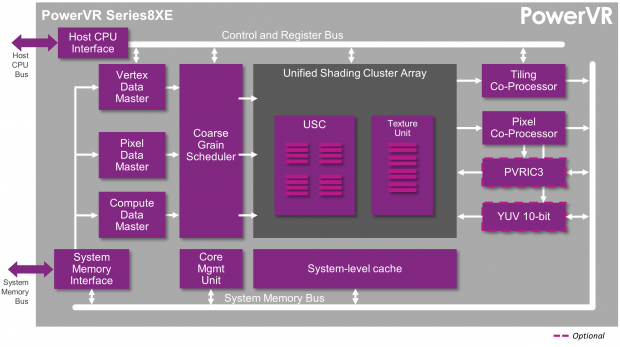 High resolution is cheap now, with better displays showing up on phones and in TV's for not much money. But GPU's powering our apps and features are not always up to the task. Imagination Technologies is seeking to change that by making more powerful, more efficient and overall less expensive to manufacture GPU's with their PowerVR8XE series.
They're making the entry-level GPU's smaller than the competition, by about 30-45%, while still keeping the same basic pixel fillrate. In otherwords, we're looking at seeing a 60-100% increase in performance at the same size. The PowerVR GE8200 and GE8300, their entry-level solutions, can pump out a surprisingly good two and four pixels per each clock, respectively. That's pretty impressive considering the power-envelope they're shooting for.
The new architecture also fully supports the Vulkan API as well, letting developers really take advantage of the computing power available, actually using the threads efficiently. IThis is a very significant announcement and could make 4K and better mobile apps a reality across the world, even in places where less expensive phones are normal.
Related Tags