AMD to power 360 degree VR news broadcasts and documentaries
AMD and the Associated Press bring a new dimension to news broadcasts with virtual reality and 360 degree video.

Published Thu, Feb 18 2016 10:30 AM CST
|
Updated Tue, Nov 3 2020 12:01 PM CST
AMD is partnering up with the Associated Press to bring an unprecedented level of interactivity to the world of news reporting with "next generation VR journalism".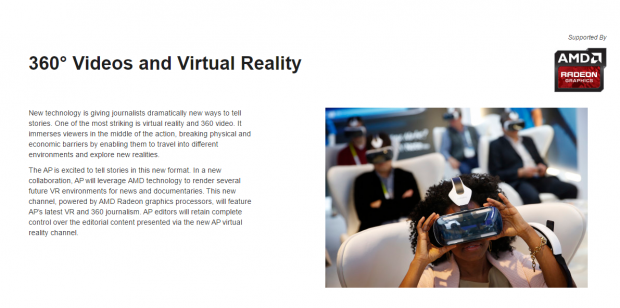 With the help of AMD's Radeon graphics hardware, the Associated Press will report news on a new VR channel, allowing viewers to seamlessly enter real-time news broadcasts with full 360-degree field of views. The plan is to breathe new life into news coverage and documentaries using the immersive power of virtual reality, which could revolutionize the world of news reporting altogether.
AMD will leverage the power of its Graphics Core Next Radeon graphics technology in conjunction with LiquidVR to render environments for documentaries and news coverage. AMD is confident that it's tech will deliver "spectacular VR visual experiences to engage audiences both emotionally and intellectually". The AP promises that its new VR channel will immerse viewers with a new dimension of news reporting, allowing them to actually experience major news stories rather than just watching.
"VR can help people achieve a visceral experience of news and documentaries so they can feel what it's like to actually be there," said Radeon Technologies senior VP and chief architect Raja Koduri.
"The technology can enable us to figuratively walk in another's shoes, leading to greater understanding and empathy. The Associated Press is one of the most trusted sources of independent newsgathering, and AMD is a leading innovator for computing and visualization technologies. AMD Radeon graphics are designed to power the most realistic experience possible for audiences everywhere, and together with AP, we'll work to fuel the expansion of the global VR ecosystem."
The AP virtual reality channel is now live in preparation of the incoming Oculus Rift shipments.
Related Tags