AMD's high-end Polaris 'most revolutionary jump in performance so far'
RTG boss Raja Koduri teases the 'most revolutionary jump in performance so far' from enthusiast Polaris GPU.

Published Sat, Jan 16 2016 10:38 PM CST
|
Updated Tue, Nov 3 2020 12:02 PM CST
We are beginning to find out more and more about AMD's enthusiast-powered Polaris GPUs, thanks to a chat between RTG boss Raja Koduri, and VentureBeat.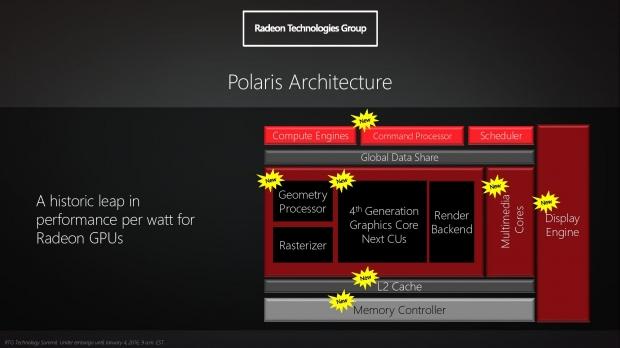 During the chat, Koduri said: "We have two versions of these FinFET GPUs. Both are extremely power efficient. This is Polaris 10 and that's Polaris 11. In terms of what we've done at the high level, it's our most revolutionary jump in performance so far. We've redesigned many blocks in our cores. We've redesigned the main processor, a new geometry processor, a completely new fourth-generation Graphics Core Next with a very high increase in performance. We have new multimedia cores, a new display engine".
He added: "In summary, it's fourth generation Graphics Core Next. HDMI 2.0. It supports all the new 4K displays and TVs coming out with just plug and play. It supports display core 4.3, the latest specification. It's very exciting 4K support. We can do HAVC encode and decode at 4K on this chip. It'll be great for game streaming at high resolution, which gamers absolutely love. It takes no cycles away from games. You can record gameplay and still have an awesome frame rate. It'll be available in mid-2016".
So what have we taken away from this? We now know about AMD calling their new GPUs by 'Polaris 10' and 'Polaris 11'. We knew about HDMI 2.0 arriving with the fourth-gen GCN core, which brings AMD's enthusiast cards up to where NVIDIA has been for around 18 months now. 2016 is going to be the most exciting year for GPUs, especially with HBM2 arriving with up to 32GB and 1TB/sec of memory bandwidth.
Related Tags