It seems that the excitement was a bit preemptive. Microsoft has removed the ability to download and play Red Dead Redemption from the Xbox store, saying that they were made available by some sort of error.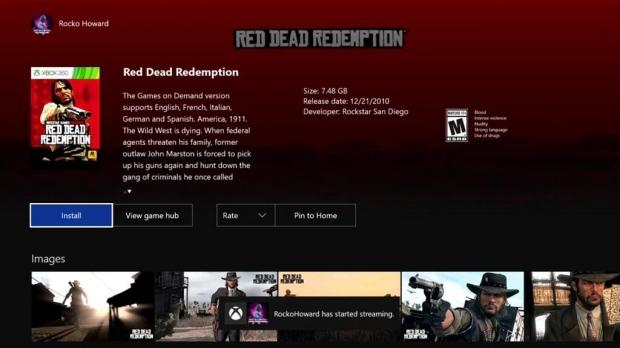 Larry "Major Nelson" Hryb did take to Reddit to explain that RDR is currently in a testing phase, though that along with a few other games, they were accidentally made public. "Due to an error, some of the games currently in test were accidentally made available. We have since removed access to those games, and apologize for any confusion this may have caused. We will have more information on upcoming releases soon."
The good news is that we'll eventually be seeing it be available, though it's not quite clear when. The original story is still posted below for your convenience.
[Original Story]
Though Red Dead Redemption is finally playable, to do actually download it, even if you own it, requires a strange workaround to do so. Searching for it the normal way within the Xbox One itself doesn't yield the game in the results. Instead you'll have to search for someone who has the game already, a user with the gamertag of "rockohoward" in this particular case and find the download link in their profile.
Right now you can't use a physical disc to play it, I tried that this morning, but that might might change in the future. Furthermore, if you don't already own a digital copy, the only way to buy one is through the Xbox 360's internal shopping experience or through Xbox.com.
Microsoft did announce last month that they'll be releasing new compatible games when they're available, not using the typical release schedule we're used to. That could mean a silent launch for more games. But if installing a game requires this kind of workaround (even if it works perfectly) it could mean that they aren't necessarily completely ready for prime-time. Regardless, a long awaited classic (on the 360 anyhow, not in literal terms) is now available to play. Finally. And it seems that performance is on par with the original.