Are you still having fun in Destiny? Bungie wants to know
Bungie is asking its playerbase if they're still having fun...but what is a Guardian with nothing to guard?

Published Wed, Feb 3 2016 4:33 PM CST
|
Updated Tue, Nov 3 2020 12:01 PM CST
For the most part, gamers are pretty disappointed with Destiny's current setup. The game remains in a kind of stagnant stasis months after its stellar The Taken King expansion, and many publications have taken turns trying to rile the titans out of their slumber. Meanwhile, Bungie remains quiet and vigilant, as always.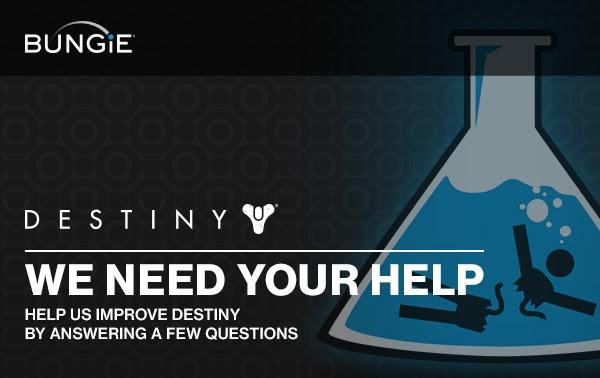 As if the constant reminders, queues and prods from Reddit and its own forums weren't enough, Bungie has sent out a new e-mail survey asking Destiny players to rate their fun factor in the game. It's actually a very small message, and is only sent out to users who have signed up with Bungie's User Research platform.
In it's entirety, the e-mail simply asks players how much fun their having: 5 for "very fun", or 1 for "not fun". At this point in time, I think most gamers would answer "N/A" and write in "you need to communicate better with your audience." Oddly enough, it appears that the survey was only sent to a very limited number of players, and most research program users are reporting they didn't get any emails.
In any case, let's hope the survey messages reinforce the clear resounding message Destiny players really aren't happy. The Destiny Reddit has posted its own poll, and the most popular response is "2. Eh, it's almost fun".

There's new hope for Destiny fans, however: the draconian reign of Harold Ryan is now over, and Bungie now has a new CEO who's making Destiny his number one priority. Under the leadership of CEO Pete Parsons, Bungie could turn everything around, and Parsons even says that he believes players have "yet to see our best work".
Bungie has to come out of the stars and fly back to Earth if it wants to keep its playerbase, and keep us updated on new content. With a game like Destiny, fresh content streams is vital to its success, and you can only get so far with in-game microtransactions and rather boring seasonal content.
Meanwhile, we still don't know if Destiny 2 is delayed past 2016 or not, and we probably won't get any concrete info until things start to change. If they change, of course.
Related Tags