Bethesda announces E3 2016 show dates
What will Bethsoft show at E3 2016? Fallout 4 console mods and DLC, or maybe even an Elder Scrolls VI reveal?

Published Mon, Feb 1 2016 12:33 PM CST
|
Updated Tue, Nov 3 2020 12:01 PM CST
This year's E3 event is only four months away--oh how time flies when you're having fun!--and Bethesda builds the hype by revealing the dates and times for its showcase briefing.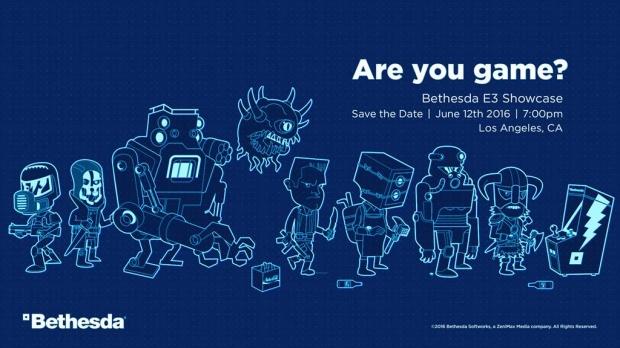 According to Bethsoft exec Pete Hines, the publisher's pre-E3 2016 showcase will be held on June 12. 2016 at 7:00 PM PST in Los Angeles. We're not sure if Bethsoft's gala will be held off-site again, but the reveal is notably vague when it comes to venue specifics.
So what can we expect from Bethesda at E3? Before you get excited for Elder Scrolls VI, remember that Bethsoft has said that Elder Scrolls VI isn't going to happen for a "very long time". Besides, the devs are busily working on a number of projects, including Dishonored 2, the Doom reboot, new Elder Scrolls Online content, and Fallout 4's upcoming DLC. We'll also likely see Bethesda unveil their plans for Fallout 4 mods on PS4 and Xbox One to top it off.
If we knew where the E3 briefing was being held, that would drop a big clue--if it's off-site at a major theater like the Fallout 4 reveal, we know something big is coming. If it's at the LA Convention Center, however, it's probably just recaps of existing game content.
In any case, TweakTown will be at the show to cover all the latest and greatest news, so keep your eyes peeled with June comes around. E3 2016 is scheduled to begin on June 14-16 in Los Angeles.
Related Tags