Phison's NVMe SSD controller is capable of 2.6GB/sec reads
Phison shows off PCIe-based SSDs, and their next-gen SSDs on 1Znm TLC flash.

Published Fri, Jan 8 2016 2:32 PM CST
|
Updated Tue, Nov 3 2020 12:02 PM CST
CES 2016 - Phison was showcasing their extensive line of storage products at the Consumer Electronics Show this year, with PCIe 3.0 x4 NVMe solutions, as well as next-gen SSDs using 1Znm TLC flash. Not only that, but flash drives using USB Type-C and super-fast 128GB SD cards were also on the table.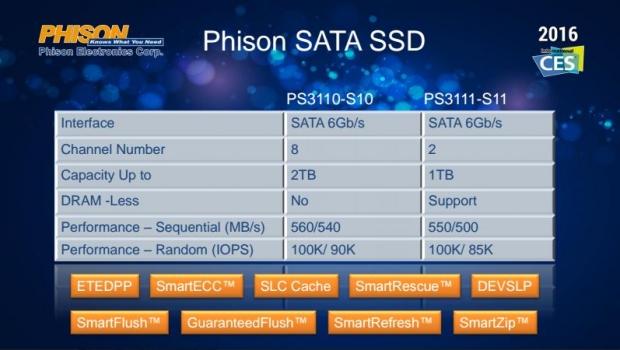 Starting with the PS5007-E7 which is the latest PCIe 3.0 x4 NVMe-based SSD controller which Phison says "is in the final phase of performance tuning", with it hitting 2.6GB/sec reads and 1.5GB/sec writes - they are not for the faint-hearted, that's for sure. The PS5007-E7 features random performance of 300K IOPS read, and 250K IOPS write. Random performance sits at 36K IOPS. We should expect it to hit the consumer space in March, with drives arriving at up to 4TB.
Moving onto the PS3110-S10, which is a SATA 6Gbps controller, but it now supports the latest 1Znm NAND flash technology. Together with the 1Znm TLC, the S10 controller "saturates" the SATA bus, but adds "additional proprietary technology to provide a robust solution".
The C-Thru Drive features the incredibly awesome USB Type-C connectivity, which enables users to simulataneously charge their single port mobile solutions, all while accessing content. No additional dongles are required, which is a nice touch.
Then we have the ultra high-speed UHD-II SD/microSD controller - the PS8036 - which is capable of driving up speeds to a huge 280MB/sec reads, and 245MB/sec writes.
Related Tags