Classic Star Wars trilogy gets recreated in 8-Bit graphics
CineFix tells the epic story of the original Star Wars trilogy in the form of an 8-bit game.

Published Mon, Dec 21 2015 5:19 PM CST
|
Updated Tue, Nov 3 2020 12:02 PM CST
In celebration of everything Star Wars, CineFix has spun 8-bit gold by recreating the original trilogy as if it were an old Nintendo game.
With Star Wars: The Force Awakens utterly smashing box office records and invading our galaxy, the Force has never been stronger with gamers and ultra-geeks. Just about everyone is scouring the web looking for supplemental Star Wars entertainment, whether it be reviews, comics, books, games or super nerdy live-action battle reenactments. The clip above does just that and more: it reminds you what your childhood could have been like if this "game" had indeed been real.
Although J.J. Abrams has taken us on a new journey across the future of the franchise, CineFix takes us back to where it all began. The sci-fi adventures of our youth are re-visited with an epic excursion into the heart of Star Wars magic. A smattering of memorable scenes have been recreated in painstakingly awesome 8-bit detail, chronicling Star Wars: A New Hope, The Empire Strikes Back, and Return of the Jedi in progressive stages of console history. A New Hope, for example, resembles the early NES version of The Legend of Zelda, whereas Return of the Jedi takes on a Genesis-style action side-scroller feel.
So sit back and get ready for a double dose of nerd nostalgia in all of its pixelated glory.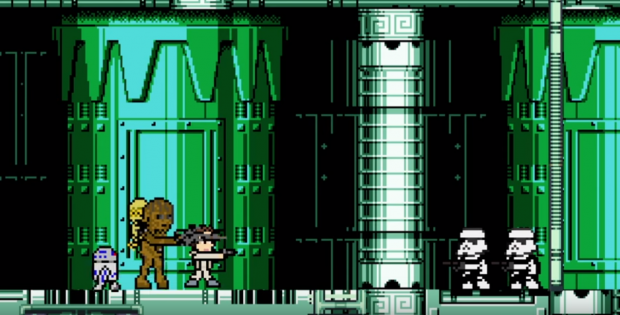 Related Tags