Windows Live Mail 2012 update prevents service from going kaput
Microsoft changing email service, Windows Live Mail 2012 will no longer work without recommended manual update.
Published Mon, Dec 14 2015 12:29 PM CST
|
Updated Tue, Nov 3 2020 12:02 PM CST
The Outlook team recently sent out an e-mail to some users indicating Windows Live 2012 will no longer work soon unless you install this update (which some users report breaks things, so probably hold off).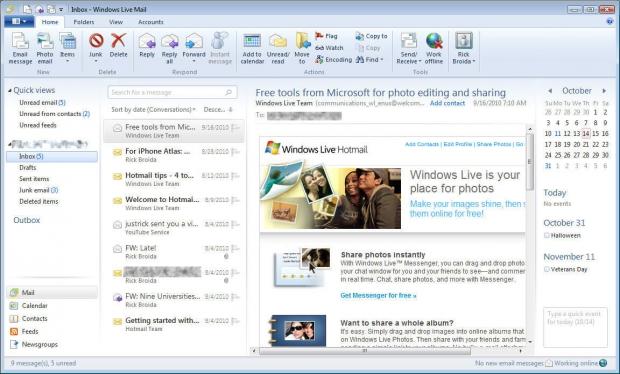 The interruption in service is due to changes being made to Microsoft email services in a few weeks; the email doesn't specify what the changes are, but Slipstick reports the plan is to move everything over to the Office 365 infrastructure.
The full email is below.
Dear user,

In a few weeks, we will be making some changes to our email services that might impact your @outlook.com, @hotmail, @live, or @msn email account. Those changes will prevent your email from being delivered to the Windows Live Mail 2012 application you use.

In order to continue using Windows Live Mail 2012 to send and receive email for your account, you need to install the latest update published here.

If you use Windows Live Mail 2012 on Windows 8, Windows 8.1 or Windows 10, we recommend that you switch to the built-in Mail app in Windows to stay connected and get the latest feature updates on Windows 8, Windows 8.1, and Windows 10.

Windows Live Essentials 2009 and 2011 are not supported anymore, and you will need to update to Windows 8/8.1 or Windows 10 and use the Mail app, or use www.outlook.com. To learn more about the Mail app, please click here.

We also recommend all Windows Live Mail users on Windows 7, Windows 8, and Windows 8.1 to upgrade to Windows 10 and use the built-in Mail application to stay connected and get the latest feature updates.

We suggest saving this email so you can refer to it later.

Thanks for your understanding and continued use.

Sincerely,

The Outlook team
Related Tags