Sony releases new Final Fantasy VII Remake gameplay trailer
Final Fantasy VII Remake gameplay reveals an action-based combat system, and the PS1 original is now up on the PS4 digital store.

Published Sun, Dec 6 2015 12:28 AM CST
|
Updated Tue, Nov 3 2020 12:02 PM CST
Sony's PlayStation Experience event went live today, and the Japanese console-maker had a bevvy of new PS4 content to show off at the event. One of the main attractions was the first gameplay footage for Square Enix's mega-anticipated Final Fantasy VII Remake, giving gamers the first look at how the PS4 exclusive compares to the 90's RPG classic.
The new trailer for Final Fantasy VII Remake purely exhibits the game's newly refined action-based combat system. In many ways, FF7 Remake is an extension of Final Fantasy 15's fluid drop-in drop-out combat and stands as a polar opposite to the turn-based combat found in the original Final Fantasy VII. Square Enix said right from the start that the FF7 Remake would have a "dramatically different" combat system.
I've always thought that Square Enix would never remake something like Final Fantasy VII. The game has such an incredibly devout following that it's taken on a kind of mythological scope; Final Fantasy VII is so revered that it transcends the traditional sense of gaming, and because it's such a powerful nostalgic force, I was sure that Square Enix wouldn't take the risk of ruining everything.
Sony and Square Enix have taken that risk to recapture the nostalgic magic, which fits right into Sony's business plan for the PlayStation brand. The Japanese gaming giant is all about rekindling those glory days of the past PS eras, and we're starting to see this plan manifest in a very real nostalgia tax.
Take Sony's move to bring PlayStation 2 emulation to the PlayStation 4, for example. As Sony is remastering old PS2 games to 1080p HD to play on the PS4, old PS2 game discs won't be playable on the console. In essence, this is a kind of a new mix between backward compatibility and HD remasters that can be carefully managed and monetized, ensuring that gamers will have to re-buy games they already own to play it on the PS4.
As if to completely reinforce this tactic, the original PS1 Final Fantasy 7 is now available to play on the PS4, pretty much saying that PlayStation 1 emulation is available as well. Of course, we already knew that it was since Sony confirmed it when it announced PlayStation Now. Just don't expect to be able to put your game disc in to play the game. You'll need to re-buy it, of course.
After watching the trailer, gamers are much more likely to be enticed and rush in and buy the original FF7 for $10 on the PlayStation Store, reliving those classic moments while they build hype and momentum for the remake.
In any case, the Final Fantasy VII Remake looks quite vibrant and its combat is reminiscent of Crisis Core. It'll be interesting to see more footage in the coming months. No release date has been announced for the FF7 Remake.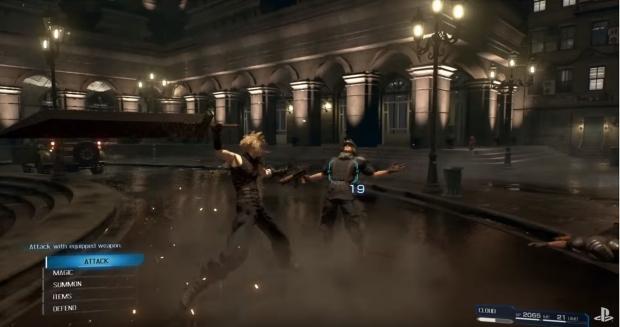 Related Tags