Best Buy sale offers 40-inch 1080p HDTV and Xbox One for $500
Grab an Xbox One with a 40-inch Samsung 1080p HDTV for just $500, plus other huge game sales at Best Buy.

Published Tue, Nov 10 2015 2:00 PM CST
|
Updated Tue, Nov 3 2020 12:03 PM CST
Black Friday is almost here, and that means a ton of insane tech deals will start rolling in. Best Buy has just unveiled its Black Friday ad revealing some pretty substantial savings on game consoles, TV's and tablets. But one deal combines the best of both worlds with a games console and HDTV bundle.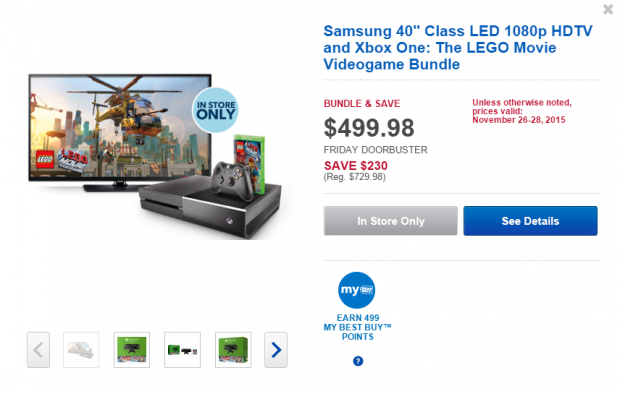 This particular Best Buy doorbuster bundle consists of a 40-inch 1080p Samsung HDTV with a Xbox One console for just $500. With a price like this we can't expect the Xbox One to come with a good game, but at least you'll get the Lego: The Movie video game. Even still the bundle is pretty impressive, even if the Xbox One system isn't. There's only one bit of bad news: it's a store-only doorbuster, so you'll probably have to wait in line for 10 or so hours to get it.
Best Buy also has you covered if you're looking to expand your new Xbox One's games library with some substantial video games savings. You can pick up hit Xbox One titles like Grand Theft Auto V, Assassin's Creed: Syndicate and Forza 6 for just $34.99. Other savings include games like The Witcher 3: Wild Hunt and The Elder Scrolls Online for just $24.99.
If you have a Gamers Club Unlocked membership, you'll make out like a bandit while earning more Best Buy rewards points to boot. GCU members get those games for just $28 and $20.99 respectively, before tax. The Witcher 3 for just $20? Sign me up.
The only real caveat here is that it's for the Xbox One, and the console is pretty lacking in its features and general UI setup. Although the console is getting backwards compatibility with Xbox 360 games and the New Xbox One Experience update, Microsoft is still having a really tough time competing against the PlayStation 4.
Best Buy will have both the PlayStation 4 Nathan Drake Collection bundle and Gears of War Xbox One on sale for just $299 apiece, so if you're in the market for a console, I highly recommend going with Sony's system.
Related Tags