Corsair's new GPU cooler will liquid cool your Titan X or GTX 980 Ti
Corsair's impressive new Hydro Series HG10 N980 and N970 will keep your NVIDIA GeForce GTX Titan X and 980 Ti wicked cool.

Published Tue, Nov 10 2015 1:31 AM CST
|
Updated Tue, Nov 3 2020 12:03 PM CST
Corsair has just unveiled the availability of its new Hydro Series HG10 GPU N980 and HG10 N970 cooling brackets, which liquid cool your NVIDIA GeForce GTX Titan X, GTX 980 Ti, GTX 980 or GTX 970 video cards.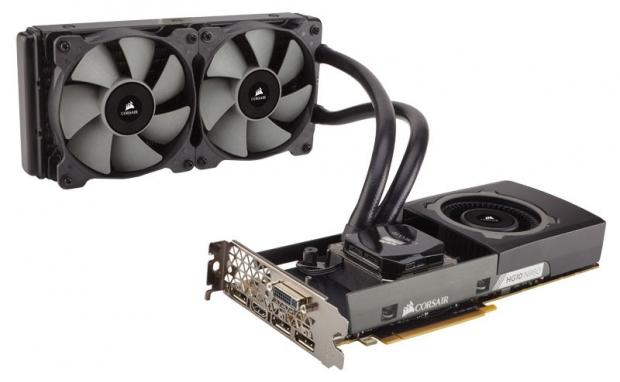 The new GPU coolers are designed to work with any stock PCB layout from the GTX Titan X, GTX 980 Ti, GTX 980 and GTX 970 where it will replace the stock air cooling on the video card with a new liquid GPU cooler. The bracket allows for a CPU cooler to be used (as you can see in the image above), directly onto the GPU.
The Corsair Hydro Series HG10 is capable of handling up to 250W of heat, so you could drastically lower the temperatures of your GPU, as well as the noise - all while providing more overclocking headroom. The HG10's aluminum bracket and integrated 70mm low-noise blower fan will actively cool your GPUs other heat-producing components. Corsair's Hydro Series HG10 cools your video card's memory and VRM, and not just the GPU.
Corsair's new Hydro Series HG10 has a 2-year warranty, ensuring that you're covered for a couple of years of keeping your card cool. Be sure to check the warranty on your card before busting open the cooler, too.
Related Tags