BlackBerry CEO fumbles during new Priv demonstration
BlackBerry's John Chen shows he's not too keen on Android's functionality, and falters during a hands-on demo of the Priv.

Published Mon, Sep 28 2015 3:04 PM CDT
|
Updated Tue, Nov 3 2020 12:03 PM CST
BlackBerry has just announced the Priv, its first Android phone that features a slide-out keyboard and a curved display, and company CEO John Chen shows that Android might still be a strange new world for BlackBerry.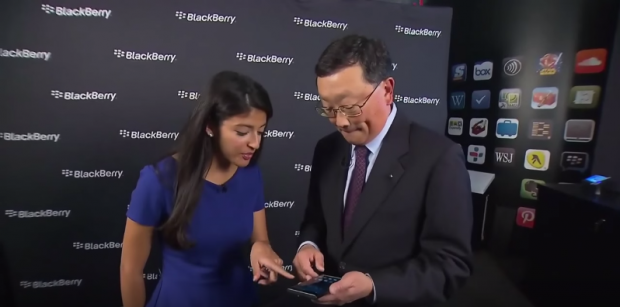 Chen seemed to have been caught totally off-guard during an hands-on demonstration of the Priv handheld, saying things like "obviously it runs Google" and fumbling with the OS as if it were completely alien technology. After firing up Google Chrome, Chen faltered after realizing he wasn't signed in, and after a few failed attempts he finally closed the app. Aftwards the BlackBerry CEO was content just focusing on the hardware--the 5.5-inch screen and the signature slideable BlackBerry keyboard.
The whole ordeal is kind of painful to watch and shows that Chen wasn't really prepared for the demonstration. During one segment, Chen actually verbally explains how the keyboard features capacitive touch so it can be used as a mouse for web surfing or checking text messages rather than walking through the functions on the phone. That's not to say that spontaneous demos can't be pressure-inducing affairs, but the CEO should still be able to confidently maneuver the OS and have a working knowledge of the device he's marketing.
Also in case you were wondering where the Priv gets its name, Chen says that it stands for "privacy" first and "privilege" second: "security is what we provide, and privilege is what you end up with."
Related Tags